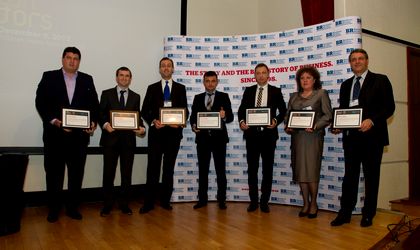 With around EUR 9 billion invested domestically last year, big Romanian players have courageously continued to expand and create jobs, despite the uncertain economic picture. Some of the most significant breakthroughs registered by local companies were awarded by Business Review last week, during the first Romanian Investors Forum (RIF).
By Ovidiu Posirca
On a challenging market, which is attempting to leave behind the chills of the global financial crisis, local capital was put to work to shore up the economy. "Romania will grow durably – and it's fundamental to understand this – through Romanian capital," said Cristian Parvan, vice-president of the Association of Romanian Businesspeople (AOAR).
According to Parvan, total investments amounted to RON 77 billion (EUR 17 billion) in 2012, out of which RON 8 billion (EUR 1.8 billion) took the form of foreign direct investments and RON 30 billion (EUR 6.7 billion) public investments. The rest comprised investments made by local companies and entrepreneurs.
Marinel Burduja, executive director of Atrium Capital, said that Romania has enough "economic vitality" to create influential companies. Burduja will take the helm at the Romanian Bank for Credit and Investments, a newly formed local lender following the acquisition of ATE Bank by Romanian entrepreneur Dorinel Umbrarescu. The EUR 10.3 million deal was awarded by BR in the investment category.
"We will firstly support innovation. We will focus on financing start-ups," said Burduja, who added that a Romanian private lender has a different approach to country risk and understands better the features of local companies.
Convincing Romanian firms to go public
Some local companies have higher ambitions and are looking to tap the local stock exchange to raise development funds, which would also work as a cheap tool to gain publicity and marketing.
Ludwik Sobolewski, CEO of the Bucharest Stock Exchange (BSE), listed the extension of trading hours and the addition of new market makers as some of the first steps the exchange will take to make itself more attractive to entrepreneurs.
The local capital market marked a historic moment in November, following the initial public offering (IPO) in Romgaz, the state-owned gas producer. Around EUR 391 million was raised from the IPO, which also included the listing of global depositary receipts (GDRs) in London.
Sobolewski commented that Romgaz "is a good sign that persists", adding that the BSE has to work on setting up a market for the gas producer and others to come. The country still has some IPOs in the pipeline for 2014, involving energy companies that will be listed in Bucharest and London.
BR granted Romgaz a special award in the capital markets category for increasing the profile of Romanian companies among international investors.
"I am quite confident that in 2014 we will have undertakings coming from the private sector, not only privatizations," said the CEO.
At present, Sobolewski is trying to bring Romanian entrepreneurs to the stock exchange, describing a situation in which a manager asked him what could convince him to go public.
"This is about having an alternative tool for getting capital," commented the CEO. "Through the stock exchange, a company can get market valuation, which is useful in mergers & acquisitions (M&A), giving the possibility of a non-cash transaction."
Making Romanian companies go public may be a tough nut to crack, but Sobolewski could build on the experience he gained in Poland. While at the helm of the Warsaw Stock Exchange, he set up a trading platform for small businesses called New Connect from scratch, which has since grown to around 450 firms.
"The stock exchange should help more companies go public, so as to have success stories involving private firms," said the AOAR vice-president.
Financing options for 2014
The government is also trying to help Romanian SMEs that are struggling to gain access to finance.
Cezar Iliu, general manager of the SMEs and cooperation section within the Ministry of the Economy's department for SMEs, business environment and tourism, said, "SMEs are usually financed by owners or through bank loans. The cost of bank finance is prohibitive."
In a bid to lend a hand to smaller companies, the authorities have approved the de minimis support scheme for SMEs, which will amount to RON 250 million (EUR 56 million) next year. Each SME will be able to take out a grant of up to EUR 100,000.
In addition, Switzerland has granted CHF 20 million (EUR 16.3 million) that will be distributed to Romanian SMEs through CEC Bank. The Swiss grant can finance investments of up to CHF 100,000 (EUR 82,000) and will focus on manufacturing, healthcare and energy efficiency.
Building success stories in 2014
Florin Pogonaru, AOAR president, reckons that a series of virtuous circles will be born in the local economy in 2014, citing the stock exchange as a typical example. "2014 will be the year of continuing to forget the crisis, and the fear within the business community will further decrease," he suggested.
Ovidiu Chiorean, partner, investment banking, at Crosspoint, added that Romania still has unutilized potential. "The anguish of the crisis has prevented certain investments from happening, but the interest (e.n. from investors) from at home and abroad makes me optimistic."
Ion Sturza, CEO of investment fund Fribourg Capital, agreed that Romania needs to register some successful investment stories to attract investments, given the ongoing race for fresh capital across the region. "I am convinced Romania must rethink its economy through reindustrialization and by using its mineral resources," said Sturza.
BR awards Romanian companies
As part of its constant efforts to support the business community, BR honored Romanian firms and entrepreneurs that had sought to expand their business and create jobs.
The magazine awarded companies in the innovation, human resources and investments/capital markets categories.
Romanian Insoft Development & Consulting, a provider and integrator of IT&C solutions, snapped up an award in the innovation category. CEO Cristian Aciubotaritei accepted the prize, noting that the company has entered its fifth year of activity.
MB Telecom, a system integrator that designs and installs hi-tech equipment, generally as part of large-scale security projects, received an award for innovation for the first aircraft scanner in the world, the Roboscan 2M Aeria, which took the grand prize this year at the 41st International Exhibition of Inventions of Geneva.
Mircea Tudor, president of MB Telecom, said, "We are scanning locations for developing a second production capacity and we have reached Switzerland."
"If we are a poor country and we want to exit the crisis we should stimulate the economy, not suffocate it. Switzerland, which is so wealthy, is so far ahead of Romania," said Tudor, alluding to the taxation framework in Switzerland.
TeamNet, a Romanian provider of IT services, received a prize in the innovation category for its initiative to build and operate unmanned air vehicles (UAVs) in Romania. The first missions that the Hirrus drones participated in involved data gathering for academic projects.
George Stan, founder and head of engineering at TeamNet, said that 98 percent of the drones' components are made locally.
Agricola International, the Romanian meat producer, was granted an award in the human resources category. The company was recently ranked as the best Romanian employer by Aon Hewitt in the category of SMEs with fewer than 1,000 employees.
Ramona Popa, HR manager at Agricola Bacau, said, "Human resources are strategic. In a market with tight competition, and with local economic conditions which are not the greatest, people make the difference. This has been reflected in performance indicators as Agricola International has doubled its poultry sales since 2009."
Romanian DIY retailer Dedeman was also awarded in this category for employing 960 people after opening six new stores across the country. In addition, the retailer was awarded in the investment section after putting EUR 73 million into expanding its branch network this year.
Telecom operator RCS&RDS was acknowledged as one of the biggest investors locally for putting EUR 40 million into 3G and 4G licenses and investments in the data infrastructure for providing internet at speeds of up to 1000 Mbps.
"The service with the highest speed in Romania and Europe is the service we launched, Fiberlink 1000, which we hope will help us maintain our leading position in the high-speed internet market in Romania and first place in the local television services market," said Florin Nemes, marketing & PR coordinator at RCS & RDS. He added that the company has over 8,500 employees.
Romanian Comfert, a company active in the agriculture sector, was commemorated for the acquisition of bakery producer Pambac, along with Popas Trebes, another Romanian firm.
Madalin Turcu, brand manager at Comfert, said the acquisition allowed Pambac to continue its activity as a Romanian brand.