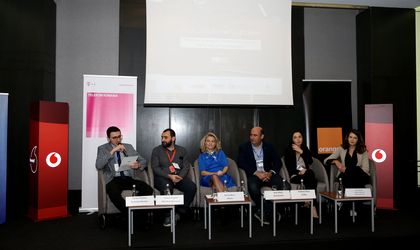 The event will bring forward the latest insights from key players in telecom & technology, industry-oriented case studies from pioneering companies and the latest tech solutions to grow your business and transform any organization into the new industry disruptor by engaging untapped market potential.
Here are the main statements of the panelists.
TRACK 1: Telecom innovations – the future of your business
Marius Coman – IoT Country Sales Manager, Vodafone Romania
We hope that IoT will lead to the digital transformation of companies, and are confident that that will happen. For companies, it is a big challenge to know how much time you spend in traffic.
By 2022, 80 percent of meters must be smart, and this moved things. This sector and the automotive sector were pushed towards digitalisation by EU regulations. Telecom companies were connecting people, now they are connecting things. But IoT can also connect beings. In Ireland for instance, a team of people connected cows and hunting dogs. By monitoring the speed with which pregnant cows was their tale, the moment when they will give birth can be predicted very accurately.
5G is not standardised. Before we bring that, Vodafone brought 4.5G. Security is important for us, and we code all data in the Vodafone network. Statistics show that thousands of objects will be connected.
About IoT, we learn together with our clients. The advantage we saw is that we started selling connectivity in 2003. It was important for clients to understand what connecting machine to machine means.
IoT has a big potential to grow in manufacturing, where a lot of processes can be automated as well as the transport and logistics sector.
Andreea Cramer – Management Segment Director, Business Division, Telekom Romania
Security is an important issue. Streamlining and smart metering are of interest for companies, for instances, those who have a fleet, but there is also a need for trust. When you enter a partnership in this area, you must be able to make an interface between cars, people and all that data. Our strategy is to integrate that and to show people the added value without having to show them all that goes on in the background.
Public administration sector is one where we see potential for growth. I believe that smart city, e-city, cities, sectors and city halls that have started to implement concepts – these are the future. We started pilots. I have examples in smart parking, WiFi connectivity, energy management, among others.
As for industry sectors, all of them have a potential to growth. A lot of things come from the consumer to the company and this is good, because they can provide stimuli.
Education is also an interesting sector and it is important to get involved here. For students and pupils and parents you can do tracking. You can always be in touch and track your child's school attendance.
We were the first to conduct a 5G test. And this technology really has an impact. It is not only about speed, this must be really well explained. We are talking about the ability to process a large amount of data. The internal data about a customer, coupled with the external data must both be processed.
Silviu Neghina – IoT Sales Manager, Orange Romania
It is an advantage for us, telecom operators. It is up to us to educate the market and we are playing an important role. Still, we are far from having smart cities and other such things. We are doing good things and there are a lot of things to do. We have a big potential and the future looks good. We are the country that has a good adoption rate of the newest high-end smartphone. Moreover, the wearables sector has grown.
In the IoT area, there isn't a standard right now, everything must be adapted to clients. We must find a customized solution for them.
A lot of IoT projects must be supported by the authorities. We are also interested in the smart cities area. We are also involved in projects and expect that the authorities will get more involved.
We must prove that smart metering can be done. We need pilot projects because it is simple to say no but when you see things with your own eyes things happen differently. We are businesses and want to make money but it is important to make pilots. They started from the idea of understanding what the concept mean and what all actors involved understand by it. Today we can show concrete results on several verticals and the results are showing. It is equally important that more companies do something together, to integrate more solutions in one. If you do something 'smart' today you will have a fragmented solution. That is why it is important to have an open attitude.
We have a lot of young kids with great ideas, but they lack the 'go to market' part. They need continuous support.
This year we started Orange Fab. Companies can register here and can receive support, guiding, even coaching. They need this.
TRACK 2: Optimizing your business: A look at game-changing models reshaping industries from within. HR strategies for the new generation of employees.
Robert Anghel – Head of Digital Channels, ING Bank Romania
In the past five years, I found out that everyone knows everything about football, politics and digitalisation. That is why it is difficult to know what the important bits are.
There is a growth trend of digital experiences. In Romania a lot more people are using the internet than before. Moreover, the e-commerce market doubled. If you look to the future, 80 percent of young people are using mobiles, so there is a generation that that comes our way who does not have problems with internet adoption.
The tech trends influencing banking are biometrics . Face ID for instance, was a big thing and there was a competition to be the first bank to bring it to the market.
A total of 32 percent of all sites use Facebook connect. Digitalisation and portability of payments is a big trend as well. Digitalisation of the banks comes from new players on the market, which innovate from the outset.
In baking, investments in digitalisation have just begun. If you want a digital revolution, the entire company must become digital, not just the tech or innovation department.
Another important trend is the increased attention for fintechs.
Job rotation is an important learning factor. Then, people must have autonomy to get involved in projects and share their ideas.
Sorina Bera – CEO of Allevo
The ecosystem, including fintechs, banks and regulators, is focused on the client. In the financial sector, 2018 is a year when a tsunami or regulations will hit Romania. The PSD2, and other such examples were created starting from
the need to answer the needs of the client. It is best when banks invest in human resources that are able to develop new products and who can collaborate with fintechs. Fintechs must be a step ahead of everyone. We want to anticipate the market's needs. It is not a good idea to start developing products according to our imagination. We should go to clients and listen to their needs. So between banks and fintechs, there is a collaboration, not competition.
It is very motivating to help students, because they need to learn, rather than hire juniors who think they are seniors and wants a salary that matches a status they don't have. We adopted this vision and we believe we are gaining.
Alex Balan – Chief Security Researcher, Bitdefender
The important thing is to find a partner. Trust is very important. We are focused on innovation. More than 650 people in Romania are involved in R&D. Out of them, nearly 25 percent are working on new ideas.
At Bitdefender we have a fund that we can use for everything, almost with no restrictions. For instance, we can buy cars, alcohol and gadgets and go to conferences.
Andreea Paun – Managing Partner, Griffes
There is a need among employees, especially those in cities like Cluj, Timisoara, Iasi, to offer employees more than a good pay.
There will be a paradigm shift. Because from one day to another, automation can act and decrease the size of a team. And this has an impact on the real estate sector, where a company that rents space will have to look for a smaller space for a company whose size has shrunk.
In order to motivate employees, DB Technology's office in Bucharest was customized to offer an experience. The biggest problem of DB Technology was the fact that the bankers working in the Frankfurt headquarters were very reluctant to do the share of knowledge to the Bucharest centre.
Anca Teodor, Managing Director, Experis Romania (ManpowerGroup)
The new generation knows better what their needs are and is very well informed. From the outset, prospective employees already ask a lot of questions, regarding the work environment and more, and this can make the difference.
What we do is adapt to this and tell employers to send us more than a job description so we can pass that on. The recruiting process doesn't necessarily take longer. In three months you lose the interest of even the most interested of job seekers.
Digitalization brings change across sectors. HR is not one of the sectors that are affected massively. In recruiting, due to the availability of software, our jobs become easier.