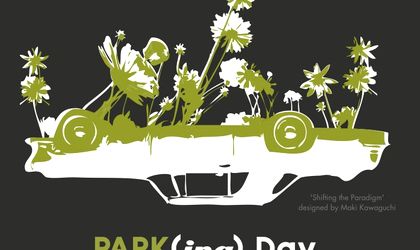 Lipscani Street in Bucharest's Old Town will turn into a green zone on Friday during the sixth edition of Park(ing) Day, a manifesto for a greener city organized by RFI Romania with the support of the Embassy of France, organizers announce.
The event will take place on Friday between 10:00 and 18:00 and this year's edition will unfold under the sign of Paris Climate 2015 Conference. François Saint-Paul, French ambassador to Romania, and Medeea Marinescu, ambassador of the Paris Climate 2015 Conference in Romania will be present for the green event.
During the eight hours scheduled, Lipscani Street (Gabroveni Inn area) will be covered with live grass and given back to those who want a greener city, organizers say. At the same time, several events dedicated to young people and children will be organized by RFI and their partners.
RFI Romania has put Bucharest on the international map of Park(ing) Day since 2009, alongside cities such as Paris, Berlin, San Francisco, Munich, Washington, Chicago, Bratislava, Lyon, Melbourne and Singapore.
Park(ing) Day is an unconventional environmental event, initiated by Rebar Art studio in San Francisco in 2005, that brings green areas to concrete spaces in major cities worldwide. In 2011, the event brough to life nearly 1,000 parks in 160 cities, 35 countries and six continents. Traditionally, Park(ing) Day takes place worldwide on the third Friday of September.
For over 20 years, RFI Romania has broadcasted programs in Romanian and French, focused on news and the francophone culture. With a team of 25 people in Bucharest and two journalists from Paris, RFI Romania broadcasts daily 13 hours of their own programs.
The FM station broadcasts in Bucharest, Iasi, Craiova and Cluj. Other 60 radio stations in the country take over part of their programs. In total, RFI Romania is heard daily by 200,000 people across the country. The editor in chief of RFI Romania is journalist Luca Niculescu.
Natalia Martian