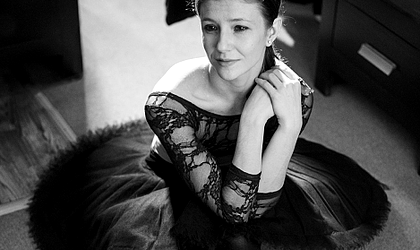 On December 9, starting 19.30, Lincoln Center's Rose Hall from New York City, United States of America, will feature Romania's top ranked dancers and their international peers: Alina Cojocaru, Tamara Rojo, Ulyana Lopatkina, Daniil Simkin, Friedemann Vogel, Osiel Gouneo, Isaac Hernandez, Daniel Ulbricht, Bianca Fota, Sena Hidaka, Dawid Trezensimiech, Marina Minoiu, Robert Enache, Shuhei Yoshida, Alexandra Gavrilescu, Bogdan Canila and Johan Kobborg. The event gathers Romanian ballerina Alina Cojocaru alongside stellar dancers from the world's finest ballet companies, all dancing in support of the Romanian National Ballet.
The Romanian National Ballet is currently undergoing a radical transformation, under the great guidance of artistic director Johan Kobborg, who came two years ago at the helmet of  the Romanian cultural institution, with considerable help from Romania's world-acclaimed star ballerina, Alina Cojocaru. The event wants to raise the standard to the level of Romanian's aspirations takes funding, and resources, as well as talent. One of Romania's greatest cultural ambassadors, the National Ballet, needs support for equipment, top-quality teachers and trainers, scholarships and salaries that are competitive enough to retain Romania's best talents, as well as a pension plan for older dancers, who have no resources.
Alina Cojocaru currently dances within the English National Ballet, but also she can be often seen on the Bucharest National Opera House scene. She is also a permanent guest artist the Hamburg Ballet.  With a rich and diverse repertoire, Alina Cojocaru won the most important awards in the world of dance, including: "Dancer of the Year" Award, granted by the German Dance Critics (2012), "Benois de la Dance" (Best Female Dancer – 2012 and 2004), "Ballerina of the Decade" Award (Moscow 2010), The "Nijinsky" Award (2004 – Best Female Dancer), Internationaler Movimentos Tanz Preis (2004, Best female dancer) and more. Alina Cojocaru continues to perform with the most important ballet companies in the world.
Ticket prices rank between US 65 to US 160. More details about the event, here.
Program:
– "The Rose Adagio" (from The Sleeping Beauty)
choreography after Marius Petipa / music by Peter Ilyitch Tschaikovsky
– Radio and Juliet (excerpt)
choreography by Edward Clug / music by Radiohead
– Diana and Acteon
choreography after Agrippina Vaganova / music by Cesare Pugni, arranged by John Lanchbery
– No Man's Land (pas de deux)
choreography by Liam Scarlett / music: excerpts from Harmonies Poétiques et Religieuses by Franz Liszt
– Les Bourgeois
choreography by Ben van Cauwenbergh / music by Jacques Brel
– With You
choreography by Ross McCaw / music by Carl Reinecke
– Marguerite and Armand (excerpt)
choreography by Frederick Ashton / music by Franz Liszt
– Manon (pas de deux)
choreography by Kenneth MacMillan / music by Jules Massenet

– Tango (excerpt)
choreography by Edward Clug / music: Milonga Triste by Hugo Diaz and Querer by Rene Depere
– The Dying Swan
choreography by Mikhail Fokine / music by Camile Saint Saëns
– The Lady of the Camellias (pas de deux)
choreography by John Neumeier / music by Frédérick Chopin
– The Black Swan (pas de deux)
choreography after Marius Petipa / music by Peter Ilyitch Tschaikovsky
– Les Lutins
choreography by Johan Kobborg / music by Henri Wieniawski and Antonio Bazzini
With the special participation of: Mélanie Genin (harp), Gregory Harrington (violin), Mihai Marica (cello), and Matei Varga (piano).
Oana Vasiliu