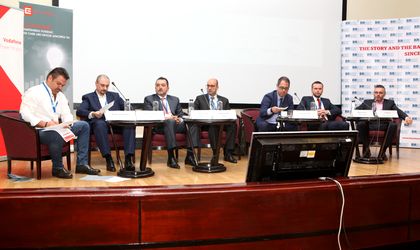 After real estate investments totaled some EUR 950 million in 2014, this year the volume is expected to reach approximately EUR 800 million – EUR 850 million, said Laurentiu Lazar, the director of investment and valuation services at Colliers International Romania during the third day of the Foreign Investors Summit organized by Business Review. However, it is hard to make forecasts beyond 2015, argued real estate panelists.
"I am less optimistic for 2016 because I don't see the necessary pipeline for such transactions. It is there, but it less obvious than the 2015 volume was back in 2014," explained Francisc Peli, partner with the PeliFilip law firm.
The average transaction value has changed and investors are presently interested in deals of about EUR 30 million – EUR 40 million, said Lazar. "There aren't really that many products left on the office market and on the industrial segment there are even fewer," he added.
And industrial in particular has seen over the past year a considerable number of investment transactions as the market has overall posted improved results. 2015 has been "a very interesting year" for the industrial and logistics segment with the leasing activity projected to reach 300,000 sqm – 350,000 sqm by yearend; however, much of this year year's results were the result of projects that were kick started as back as two years ago, said Marian Orzu, business development executive with the industrial agency of CBRE Romania. "If before the crisis the negotiation time for closing a transaction as of about three to four months now it takes at least six months and it can take as much as two years. This is why on the industrial market we see a really good year sometimes followed by a more regular one in terms of performance," he explained.
Cautiously optimistic about the future
All real estate segments have gone up over the 12 months said industry representatives. Office in particular alongside the industrial and logistics market have been posting positive results, pointed out Florin Furdui, the country manager of Portland Trust.
On the retail segment consumption has also been going up and developers are ready to cater to new demand, said Tal Roma, business development manager, Afi Europe Romania, stressing however that optimism should remain cautious. Even the residential market has been resuming growth. "It has clearly overcome its lowest point and it is now on an upward trend," commented Adrian Erimescu, the co-founder and CEO of online real estate platform Imobiliare.ro.
Nevertheless, optimism needs to be moderate in order to make sure that past mistakes will not be repeated, argued participants.
"I, too, am optimistic about the real estate market, but I do have some reservations. They have to do with the fact that we find ourselves in a period when there suddenly is a lot of money available and investors who have been frustrated for years because they lacked the resources to develop their projects, are now able to do that. I am concerned, however, that not all of them ask themselves if there is demand for those projects and that we will once again begin a cycle when we hurry things up and we skip steps," warned real estate entrepreneur Ovidiu Sandor.
This is an excerpt. Read more in BR's next print edition
Simona Bazavan