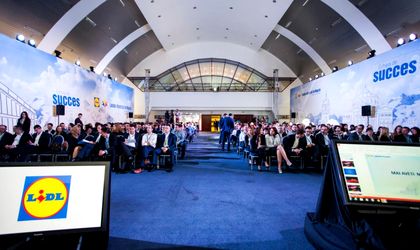 Lidl Romania started "The Future Store Manager" national project through an event held in Poiana Brasov with the participation of over 300 employees. With this project, Lidl aims to train each store manager of the 185 units across the country and to offer them the opportunity to improve their managerial and leadership skills, reads a press release. The company invests EUR 5 million in the program.
The training focus is based on five categories of competences defined for the new store manager profile: professional, entrepreneurial, personal, leadership and social.
"As Lidl believes in people and in their potential, in performance and in the future, the company's effort aims to be an equal one. The sum of EUR 5 million invested in this program is considered to be just a start on the long path of managerial excellence that our employees will complete," said Maksymilian Braniecki, chairman of Lidl Romania's board of directors.
All the store managers will complete a development stage that began with the annual evaluation and is to be individualized through a verification during which the individual profile will be reviewed as accurately and complexly as possible. Based on this analysis, there will be developed and implemented, for each store manager, a training and development program tailored to his needs over 12 consecutive months.
Staff