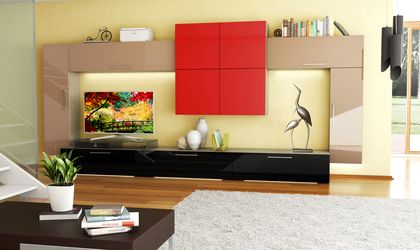 Lemet, a Romanian furniture producer selling its products through the Lem's retail outlets network, has sold over a three years' period 3,794 New York living room configurations, according to a company statement. These confiurations make up 22.4 percent of total living room sales, with a median price of RON 4,629 (about EUR 1,050).
"The contribution the New York range has in Lem's sales increased from year to year, which indicates Romanians are increasingly more open to premium products, to an effective merge between bold, modern design and function, manifested by illumination sensors, automatic opening or silent sliding,"said Adrian Rizea, Lem's commercial director.
A 16 percent slice of the Lem's business is brought in by a special purchasing plan through card or credit, for which the company partners with CEB (Advantage Card), Raiffeisen, BCR, Banca Transilvania, BRD, Garanti, Bancpost and UniCredit Consumer Financing IFN (direct financing).
Lem's also plans to widen its product portfolio by adding a new living room range, Box, of which they expect to sell 2,000 configurations by year's end. Predictions for the Box range also expect it to overtake New York in sales contribution for the next year.
Box living rooms start at RON 1,600 (about EUR 360) and are configurable and adaptable, like all Lem's products.
Lemet is a local furniture producer selling its products through Lem's brand stores. Lem's network currently has the largest coverage nationwide, with over 66,000 sqm of retail space in almost all counties. Lemet employs over 1,350 people in the Brebu Platform and stores across country.
The Brebu Lemet factory was established in 1991, currently its production and storage halls covering an area of ​​over 36,000 sqm. The factory's current annual processing capacity is approximately 3.5 million PAL panels. Production lines are fully automated, relying on the latest technology available worldwide.
Natalia Martian