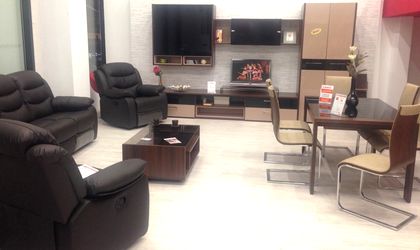 Lemet, one of the largest furniture producers in Romania, opened this month two new Lem's stores in Miercurea Ciuc and Focsani. With the two stores, the Lem's network expands its showroom area by over 3500 sqm.
According to a press release, the investment needed to open the two Lem's stores is RON 3 million (EUR 680.000) and overlaps with the launch of a new collection of hall furniture, branded Domino. The collection includes 20 furniture modules and addresses to people with medium wages who are not at their first purchase of furniture.
The Lem's store in Miercurea Ciuc covers an area of ​​1,500 sqm and was completed following an investment of approximately RON 1.35 million (EUR 300.000).
Also, the Lem's shop in Focsani is the most significant investment of Lemet in Moldova and covers an area of ​​2,100 sqm. Lem's Focsani is the second largest showroom area of ​​the furniture network in Romania, after the store in Bucharest.
The necessary investment to open this store was about RON 1.7 million (EUR 380.000).
With these premises, Lem's network reaches a total retail area, across the country, of over 66,000 sqm.
Staff