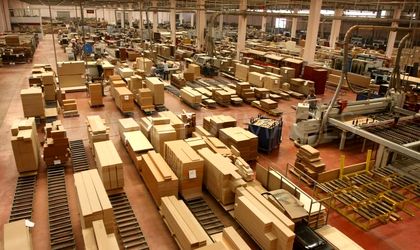 Romanian furniture manufacturer Lemet invested RON 5.5 million (EUR 1.25 million) for the opening of four new stores this year, according to company representatives.
This has brought the Lem's network to 80 units, and the company is planning to open two other stores by the end of the year.
In the first half of the year, the company opened stores in Focsani, Miercurea Ciuc, Bucharest (in Mega Mall) and Alba Iulia.
Through the opening in Alba Iulia, the company reached a network with a retail area of ​​70,000 square meters. The recently opened unit has an area of ​​600 square meters, following an investment of RON 1 million.
"Whether we are talking about the six stores in Bucharest or the other Lem's stores in Romania, they must extend over large areas, spaces needed to expose the full range of Lemet furniture. Since 2009 to present Lem's offer increased from about 900 bodies of furniture to over 10,000," said Lem's commercial director, Adrian Rizea.
In Bucharest, Lem's has six stores, four of them owned by Lemet and two franchise showrooms with an area of ​​over 6,000 square meters. The largest store in Bucharest is located in Vulcan Value Center, which spans two floors and measures 2,000 square meters.
Lemet furniture manufacturer developed Lem's brand stores for selling their own products.
The Lemet factory of Brebu, Prahova county, was founded in 1991 and currently its production and storage halls cover an area of ​​over 36,000 square meters. The current annual capacity of furniture processing of Lemet plants is about 3.5 million chipboard panels.
The Brebu Lemet platform and national network of Lem's stores have over 1,350 active employees.
Lemet registered a turnover of RON 100.2 million in 2014 and a net profit of RON 6.1 million.
Natalia Martian