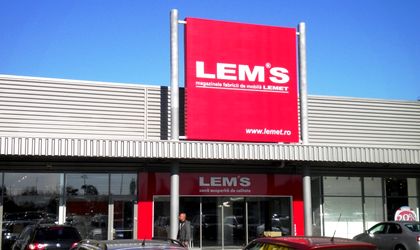 Lem's retail network ended 2014 with a 10 percent increase in turnover against the previous year. The network's businesses amounted to RON 255 million (EUR 57.6 million).
"We expect to have a growth of 10 percent also in 2015," stated in a press release Adrian Rizea, Lemet commercial director.
For this year, Lem's development strategy includes a facelift for a number of stores in the network.
In 2015 Lem's continues its strategy of network development at national level, after having opened last year four new stores with a total area exceeding 6,000 sqm, out of which 2,000 sqm are in Bucharest, the Capital currently totaling over 5,000 sqm of Lem's furniture showroom.
"Since 2009 we have constantly invested in Lem's network. The total value of the investments in stores for the past five years is about RON 50 million," said Alexandru Rizea, Lemet general manager.
Last year Lem's started the project of a new factory on the Brebu platform. It will be completed in the second half of this year. The new factory will produce solid wood products such as tables or chairs. This investment amounts to about EUR 5 million and is partially financed through European funds.
Staff