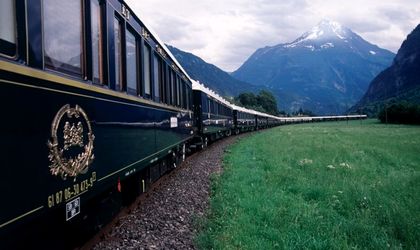 On September 3, at the local hour 14:20, the most famous train in Europe, the Orient Express, will arrive in Bucharest central station Gara de Nord. The legendary train's stop is part of its Paris – Istanbul route. The train is on its second stop in Romania, after a short pause in Sinaia, where travelers visited the Peles castle.
The story of Orient Express started 125 years ago. Its main purpose was to connect Europe from West to East. Venice, Belgrade, Vienna and Bucharest were all part of its early network of stations. Sister services led to Berlin, Baghdad and Cairo. The two World Wars, revolutions and the Cold War were to affect these routes: while new cities were added, some were swiftly axed. After big changes transformed Europe in 1989 with the fall of the Iron Curtain, train returned to some of its earliest routes. The Venice Simplon-Orient-Express has now added Prague, Budapest, Krakow and Dresden to its list of destinations.
The Orient Express is run by the firm Venice Simplon Orient Express, which has been organizing yearly trips since 2000 on the route Paris – Vienna- Budapest – Sinaia- Bucharest- Varna- Istanbul and returning to Vienna and Venice. The cost of a trip from Paris to Istanbul is of EUR 14, 260 per person. Details about the prices can be found on Venice Simplon-Orient Express official website.
Orient Express's legend
The original Orient Express was originally launched in October 1883, leaving from Paris, it steamed through the Alps, Budapest and Bucharest to Constantinople (Istanbul). The train carried kings, celebrities and shady characters between great European cities up until the 1920s.
Photo courtesy of Venice Simplon-Orient Express Facebook page
Oana Vasiliu