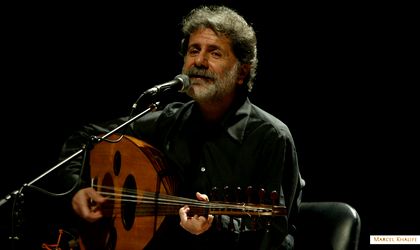 This Friday, March 18, the Radio Hall will host Marcel Khalife, Lebabon's UNESCO Artist for Peace since 2005, a press release shows. Three other artists from Lebanon will accompany lute player Khalife, Lubnan Baalbaki, permanent conductor of the Lebanon Philharmonic, Abeer Nehme, vocalist and musicologist and Salman Baalbaki, with oriental percussion.
The concert will include some of the artist's own creations, like the Andalusian Suite for Lute and Orchestra and three songs for voice and orchestra, but also Mozart's Symphony no. 40 in G minor.
Marcel Khalife is a graduate of the National Conservatory of Music in Beirut. His compositions have been performed by orchestras such as the Kiev Symphony Orchestra, San Francisco Chamber Orchestra, Royal Liverpool Philharmonic Orchestra, the Italian Philharmonic Orchestra, Royal Oman Symphony Orchestra and so on. Marcel Khalife has signed more than 20 albums, has composed music for dance and film music scores.
The concert can be heard live on Radio Romania Cultural all frequencies and Radio Romania Musical from home and live streaming on the Internet at www.romania-muzical.ro and www.radioromaniacultural.ro.
Tickets are available on www.eventim.ro, in Germanos, Orange, Vodafone, Domo, Carrefour, Carturesti, Humanitas, in OMV filling stations and the Radio Hall ticket office.
Natalia Martian