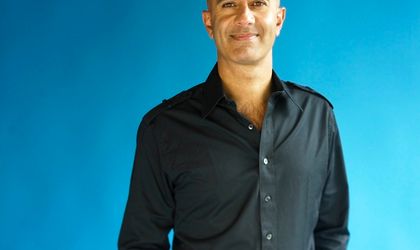 One of the most renowned leadership thinkers worldwide, Robin Sharma, returns to Bucharest to hold the "Best performance tactics for success" seminar.
Considered to be the business event of 2015, the leadership seminar held by Robin Sharma will take place on September 17, and addresses mainly to leaders, managers and entrepreneurs aiming to improve the morale of their employees, to increase their confidence in the organization they manage and to increase the efficiency of their business in these tumultuous period. According to a press release, the seminar provides the opportunity of learning about new tactics and acquiring new leadership skills, of interacting with people that share common values, are passionate about leadership and proactive in various fields of activity, and of connecting the most important players in the business environment from Romania and abroad.
Robin Sharma is the creator of the concept "the leader who has no title", which explains how the leadership qualities have nothing to do with the title mentioned on one's business card or with a large office. And nor has anything to do with the money we earn or with the clothes we wear. Leadership, according to Sharma, is a certain philosophy, an attitude, a mood, a mode of operation, being available to any of us, regardless the role we have in a company.
Exclusively in Romania, Robin Sharma will speak about the best practices of leaders who have no titles, about outstanding performance tactics for performing the daily work at a top-notch level, about the tactics the best companies use for becoming even better, about the winners' culture and the four key ideas for a an efficient team and about personal leadership lessons for coping with these times and staying focused.
The organizer of this event is Anca Pascu, CEO of Diamond Experience.
The event will take place at the Alexander Hotel in Bucharest. Tickets can be purchased online at www.robinsharmabucuresti.ro at prices ranging from EUR 199 to EUR 739.
Staff