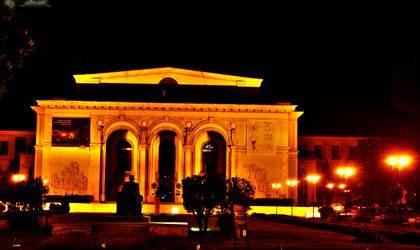 Leadership Concert – A Night at the Opera, the leadership gala offered by Expense Reduction Analysts in the exclusive benefit of World Vision Romania, will take place on May 25 at the Romanian Athenaeum.
This premium celebration of authentic leadership will bring on Athenaeum's stage some famous international speakers: Richard Jolly (Professor of Leadership at London Business School), Balvinder Powar (Professor of Leadership at the IE Business School); some successful CEOs of large organizations: George Georgakopoulos (CEO Bancpost Romania), Severina Pascu (CEO UPC Romania & Hungary) and Mircea Tudor (the only inventor in the world that was 2 times awarded with the Grand Prize by the Jury of the Exhibition of Inventions in Geneva), with the most acclaimed opera artists and musical virtuosi of Romania – The Royal Camerata, soprano Irina Iordachescu and tenor Cristian Mogosan.
Leadership Concert 2015 is organized in the exclusive benefit of World Vision Romania that is carrying out the program "Made in RURAL". The raised funds will change the destiny of thousands of children in rural areas who will be offered the chance to education and harmonious development in financially independent families actively involved in a stronger and more prosperous community. "Made in RURAL" supports parents of children from Romanian villages to learn new crafts, take advantage of their talent, start small businesses, revive traditional occupations and become role models for the community they come from.
More details about the event on www.leadershipconcert.ro.
George Georgakopoulos is CEO of Bancpost and Country CEO for Romania of Eurobank Group. He is also Chairman of the Board of ERB Retail Services and a member of the Board of the Hellenic-Romanian Chamber of Commerce and Industry. George Georgakopoulos has been living with his family in Bucharest since April 2008 and has had positions of Senior Executive Director and Executive Vice-President with Bancpost. Before that, he did almost 13 years with Barclays Group in London, Paris and the Middle East. He has had roles in corporate strategy, project management, business development and general management in a number of areas in banking, such as retail banking, wealth management, cash management and consumer finance. George Georgakopoulos studied law in Athens and took an MBA at the University of Glasgow. He has taken executive training at INSEAD, IMD and London Business School.
Severina Pascu is the CEO of UPC Romania and Hungary, a business of over USD 480 million with a team of 3,000 people. UPC is part of Liberty Global – the largest international cable company.  Prior to this appointment Severina was the CEO for UPC in Romania. Severina joined UPC Romania in 2008 as CFO and in 2011 she was appointed the CEO of the company.  An important performance has been the turnaround of the business, UPC Romania being currently in the top growth countries for Liberty Global. A graduate of the Romanian Academy for Economic Studies and an ACCA graduate, Severina Pascu is one of the most important Romanian executives, with an extensive experience in finance and business operations in companies like KPMG, Metromedia International or CAIB and across cultures.
Mircea Tudor is an entrepreneur, researcher, inventor and the one who puts his efforts and knowledge forward to secure Europe's Eastern borders with technological solutions that exceeded all evaluators' expectations. He is the President of MB Telecom Ltd, a company he founded in Romania with the declared aim of becoming one of the industry's trend makers in civil and military aviation security, through breadth of vision that only great entrepreneurs can demonstrate. A restless spirit and a visionary entrepreneur, Mircea Tudor is a great role model and a strong support for the young generation, for all those whose imagination and creativity are "looking for the possible behind the impossible wall".
Richard Jolly is Adjunct Professor of Organizational Behavior at London Business School. He teaches a wide portfolio of courses at the school, for which he was voted Best Programme Teacher by students in 2003, runner-up in 2007, won two runner-up awards in 2010 and runner-up in 2011, and won Best Teacher again in 2014. Richard also instructs a large number of Executive Education courses for London Business School in the UK and across Europe, the Middle East and Asia. Outside of academia, Richard is a Director of the organizational consulting firm, Stokes & Jolly Consulting Limited, where he works with clients representing a wide range of sectors, including central and investment banking, private equity, fund management, law and accountancy firms, management consultancy, advertising, media, music, architecture, consumer goods, telecommunications, engineering, information technology and data management companies. Richard's primary consultancy interests focus on designing and delivering executive development workshops, coaching senior managers and facilitating senior management teams, with an emphasis on leadership and change management agendas. He received his MBA with Distinction from London Business School.
Balvinder is English of Indian origin, resident in Madrid, Spain.  He is a Business & Finance graduate who also studied a Masters in Mediation from the University of London. He has extensive experience leading business, social, cultural, media and technology projects in Spain and internationally. His main skills include creative & strategic input, business development & senior management, team leadership, relationship management and business mediation. Balvinder is passionate about the importance of building strong and effective teams and enabling projects which push boundaries. He is a strong advocate of self-empowerment and pro‐activeness to achieve one´s goals, with his favorite quote being that of Mohatma Gandhi: "Be the change you want to see in the world." Currently, he is a Board Member and Director at BOOSTER Space Industries, an innovative International Sub‐Orbital Space/Aerospace project with important stakeholders in Spain, Europe and the US. He is an Associate Professor at IE Business School, giving sessions on Leadership, Team Management and Motivation, Conflict Resolution Skills, Entrepreneurship and the New Commercial Space Industry.