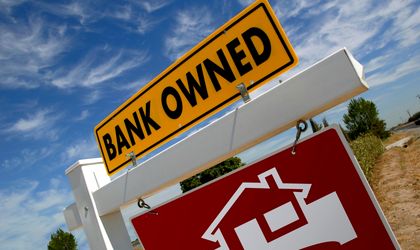 BNR Vicegovernor Bogdan Olteanu said during a press conference that the law on giving in payment should be sent back to Parliament, as it holds financial, legal and ethical issues, Mediafax informs.
The law project, stating that owners who can no longer pay their mortgage can end their loan by giving up on the property, giving it into the bank's ownership, had passed the Parliament and is currently waiting for President Iohannis to sign it into law.
The issue, Olteanu said, was connected to the term "mortgage", which can convey three different types of real estate credit: loans used for buying property, in which the unit itself becomes guarantee, loans for real estate investment, in which another property constitutes the guarantee for the one being bought or built and credits taken out to guarantee overdrafts or finance companies. The BNR representative said the law was based on arbitrary numbers, not taking into account the different types of mortgages.
BNR data show that at the end of October 491,600 credit agreements with mortgage / real estate guarantees were ongoing, granted to a number of 459,347 borrowers, as some people hold more credits.
Of this total, approximately 37 percent were mortgage loans for house purchases, of which 3,742 individuals have arrears of over 90 days, most likely being in real financial difficulty, according to Olteanu.
Approximately 14,500 debtors with over 90 days of delays fall in the category of loans for real estate developments or consumer loans secured by mortgages (land, housing, collateral deposits, other assets).
"Of course, there are other borrowers in arrears below 90 days and prompt payers who have difficulty in deposing their installments and need support," said the deputy governor.
The total outstanding amount of mortgage loans is RON 3.9 billion (EUR 863 million), of which only RON 702 million (EUR 155.34 million, 18 percent) in loans for the purchase of homes.
Also, 1,317 people took loans between EUR 150,000 and EUR 500,000, 60 people – between EUR 500,000 and EUR 1 million, 21 people – between EUR 1 million and EUR 2 million and 4 people contracted credits of over EUR 2 million.
"The amount of loans taken by these 1,402 people is RON 1.7 billion (about RON 1.2 million per loan). These data indicate that there are loans that do not justify a function of social protection of the law. Moreover, it is noted that, as the amount of credit increases, payment discipline is worsening – the default risk (ratio of the amount left for payment and the total amount due) increases: from 1.7 percent for mortgage loans under EUR 150,000 euros to 47.6 percent for mortgages of over EUR 2 million and 100 percent for home loans," said Olteanu.
Natalia Martian