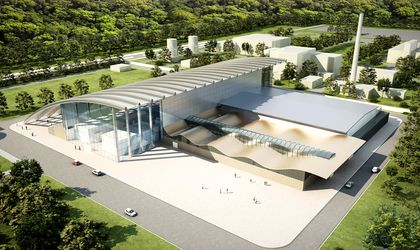 The European laser research project in Magurele is currently stagnating after Apele Romane (The "Romanian Waters" National Administration(Romanian Waters) has failed to grant a permit which is essential for the progress of the project, according to a piece in Hotnews.ro.
As stipulated in the project, the energy necessary to fuel the research center will be insured by approximately 1,000 geothermal pumps. However, for the past 8 months, Apele Romane has not granted the necessary clearance to start the drilling.
Apele Romane representatives claim there is a risk that some water sources may be contaminated and that the institution will grant the permit only after the Institute of Nuclear Physics sends detailed technical documentation which comprises the data required by the institution.
The ELI-NP project received a permit from Apele Romane in 2011, but this only referred to "the water supplies, sewage and the epuration of used waters," according to the institution. Only in 2013, construction company Strabag applied for a permit for drilling works in geothermal system.
In reply, Nicolae Zamfir, the director of the project, says that Apele Romane had the entire documentation and required the support of the government.
Since Apele Romane has not granted the permit for the construction to go forward, the 2015 deadline that Romania committed to respect in front of the European Commission may be exceeded.
The Romanian pillar, ELI-NP (Extreme Light Infrastructure-Nuclear Physics) will consist of the most powerful laser beams and the most advanced gamma beams in the world, according to Nicolae Zamfir, Romanian plenipotentiary for the project.
The research carried out in Magurele will have applicability in medical sciences – especially imaging and cancer treatments – pharmaceuticals, nuclear materials and radioactive waste management, electronics, software development and optics.
Otilia Haraga