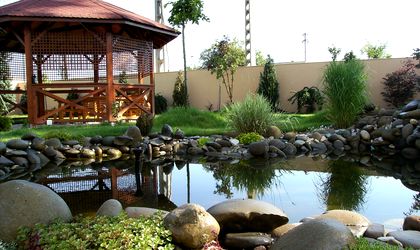 A professionally designed garden can be a rewarding investment on hot summer days, despite coming with an average price tag of between EUR 3,000 and a scorching EUR 30,000, pundits estimate. BR looks at how rosy the situation is on the local market for landscape planning services and reveals this year's garden design trends.
 Simona Bazavan
Be it luxuriant gardens with exotic plants and trees, gazebos, ponds, perhaps even lakes, or the more accessible option of a row of plant pots on a balcony or along a narrow alley, the dream garden comes with an average price tag of between EUR 10 and EUR 150 per square meter, BR discovered. Local companies specialized in landscape design and planning say they can deliver complete garden projects and that any demand, no matter how extravagant, can be turned into reality. With the right budget that is.
The Romanian market for such services however, is only just beginning to sprout. And as it is linked to the general fortunes of the real estate sector, demand has wilted over the past few years, pundits toldBR.
"One can definitely notice a decrease in demand for landscape services compared to previous years, especially this year. So the supply has had to adjust to this. The prices of design and execution projects have also had to be reduced," landscape designer Elisabeta Vera Dobrescu, PhD and lecturer, toldBR.
Adrian Onaca, landscape engineer and director of Unique Landscaping inCluj-Napoca, on the other hand, believes the market has remained relatively stable over the past years, with some decreases in 2010.
Economy goes to seed
The economic slump is making many of those interested in gardening projects postpone large investments, says Dobrescu. "At present, as we continue to find ourselves in the midst of an economic crisis, the most popular services are design and landscape maintenance. The actual execution of landscape projects is less sought after as many clients feel they have to postpone it. Maintenance services, however, must be continued, as an investment already made must be preserved," she added.
Despite the general decrease in purchasing power, local clients are becoming more sophisticated when it comes to gardening projects and are increasingly looking for full-service specialized firms, believes Onaca.
The services which are most sought after at present are installing turf, automated irrigation systems, ornamental plants and outdoor art items, he revealed.
Prices for a garden project start on average at EUR 10/sqm and go to EUR 80/sqm depending very much on the garden's size and the specifics of the features agreed upon with the owner.  "For example a 600-sqm garden can cost EUR 13,000, including basics such as alleys, plants, a pond, a gazebo, lighting, irrigation and so on, but with an easy, accessible design.  One can also spend the same money on a 300-sqm garden if the design is more complex," said Onaca.
Dobrescu estimates prices start at EUR 1.5-2 per square meter for the most basic services such as planting turf on terrain that doesn't require alterations and reach EUR 70-150 or even more for the most complex works which include elements such as cascades, decking or various water basins.
On average, projects can cost anywhere between EUR 3,000 and EUR 30,000, concludes Onaca, adding that it all depends on a wide number of variables.
"For example a 700-sqm garden with a special design that required landscaping, installing lawn turf, ornamental rocks, irrigation, lighting and drainage systems, large unique plants and outdoor art items cost EUR 34,000 (…) We also had a project of only 60 sqm which cost EUR 14,000," he said.
Clients are individuals as well as companies and institutions. However, at present, the bulk of the demand for professional gardening and landscape services comes from individuals and public institutions such as firms. Solutions for outdoor spaces are often provided by the building's general architect or contractor.
Any gardening project starts with agreeing upon the concept with the client, setting up the drainage, watering and electric systems, after that moving to the necessary land systematization and construction works (alleys, gazebos, sheds, ponds, lakes, outside walls, cascades and so on), planting, irrigating and finishing with the decorative elements.
But this isn't all there is to it. "A garden doesn't mean only alleys, structures or flowers as a lot of people tend to believe. A garden must become the sum of all the natural elements involved, presented in a form which is as accessible as possible to the modern person. There is water, vegetation, earth and rock, glass and wood, metal; then comes light as a revelatory element and in order to close this ambient chain one must also consider smell and sound," said Onaca.
Garden trends growing this year
There is the English garden design with its mimicry and often idealized view of nature, and the more formal, symmetrical French style, but there is no Romanian school, say players. On top of that, specialized gardening and landscaping services remain a novelty on the local market, lacking promotion and making it hard to talk about trends, according to Onaca.
"In formulating a direction, various creative elements are introduced, tested and assimilated in time. This generates trends which are seasonal, annual or last for even longer periods of time," the landscape engineer explained.
One of 2012's main trends is organic gardening, despite the fact that it is more time consuming, says Onaca. "Organic gardening focuses on nature protection and providing healthy food. It is the perfect solution to get healthy fruit and vegetables. Fertilizers must be natural – either of vegetal or animal origin (manure)," he added.
Another trend this year is miniature gardens, a perfect indoor "accessory" which can be included in office spaces or outside in small alleys.
Meanwhile, inEurope, an increasingly popular alternative is using plants to decorate entire external or interior walls, or vertical gardens. A square meter of vegetal wall can produce the amount of oxygen consumed by a person in one year and can isolate interiors as effectively as polystyrene but with the advantage that it allows walls to breath.
For those with green thumbs…
Specialized services can be costly, but for those with lower budgets or green thumbs there is always the option of arranging a garden oneself, with which DIY retailers can help.
Be it plants, seeds, fertilizers, gardening machinery, tools or irrigation systems, interest in the entire range of garden products, and in furniture in particular, is on an upward trend, Andras Ranky, purchasing director at OBI, told BR.
"Demand for gardening products continues to grow and we try to meet our customers' requests. For example, we have had great success selling seedlings – which goes to show that organic products are more and more popular in Romania too, following the global trend," he said, adding that the garden department is one of the most important in an OBI store.
"Attention to garden maintenance and decoration products is becoming increasingly important for our customers. This shows an evolution in lifestyle and a continuous need for innovation – something we try to anticipate," he said.
OBI stores have dedicated areas for gardening products which usually cover 2,500 sqm. About 80 percent of the retailer's gardening products are priced between RON 100 and RON 500.