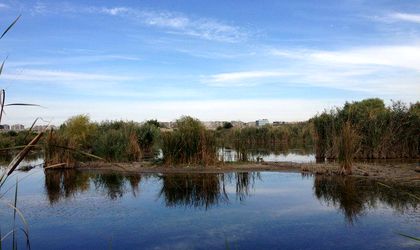 Bucharest's delta on Lake Vacaresti, also known as the "Delta between the blocks", represents a natural area bordered by Calea Vacaresti, Soseaua Oltenitei, Soseaua Vitan-Barzesti and Splaiul Independentei, the latter spanning the river Dambovita's embankment, which is now the first natural urban park that Bucharest and Romania have.
Vacaresti Delta hosts 94 species of birds, 40 of which are protected at European level and 20 internationally protected, as well as otters and foxes.
On April 29, the General Assembly of Bucharest has made the final decision to transform this area into a protected one, being ready to be transformed into a recreational space for national and international tourists.
Prime-minister Victor Ponta said on Thursday that he hopes by Tuesday he will have all the necessary paperwork so that the Government can issue a decision regarding the transformation of Vacaresti Lake in a natural park.
"Tuesday we have an important adition to the agenda – you now that the Bucharest Asembly voted to transform Lake Vacaresti in a natural park and I hope by Tuesday we will have all the necessary paperwork to issue a Government decision. We won't compete against the Danube Delta in Bucharest but it's good because it's a project that has been requested for many years by Rovana Plumb and others", the PM said in Constanta.
In September 2013, even the Romanian Academy has issued a positive opinion on the matter. Early February this year, the Initiative group for the Vacaresti Natural Park requested that the relevant authorities declare the park a protected area.
The Bucharest Delta of Lake Vacaresti, also known as the Delta between blocks of flats, is a natural area in southern Bucharest. Lake Vacaresti was designed by the communist administration as part of a more complex redesign process of the Dambovita River to be part of a water defense system of the city. Works started in 1986 but halted after 1989. In this area, stretching over nearly 200 hectares of vegetation and swamps fed by underground water sources, a stable ecosystem has developed consisting of fish, wild ducks, swans, lizards and gulls.
Oana Vasiliu