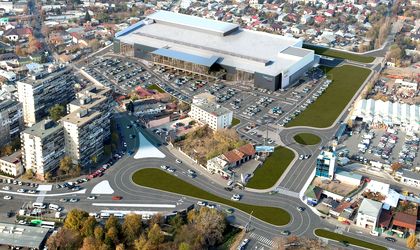 This year should see the opening of more shopping malls in Romania than in 2012 as several projects that had been postponed in recent years will finally be completed. While statistics show that there is still room for more malls in the country, low purchasing power and lack of financing will lead to even fewer investments in the pipeline over the medium and long term.
By Simona Bazavan
Promenada Mall in Bucharest, Coresi Shopping Center Brasov, Corall Constanta, Uvertura Mall Botosani, AFI Palace Ploiesti and the NEPI shopping center in Galati are the main malls that should begin trading this year.
"2013 marks both the opening of some projects that were announced two or three years ago but which were put on hold because of the unfavorable economic situation, as well as new developments in cities where modern retail is very poorly represented or entirely absent," Mihaela Petruescu, director, head of retail at Capital Property Advisors, told BR.
Should these projects be opened on time, the total modern shopping center stock will be up by about 20 percent in 2013 compared to the previous year, but the present state of construction works suggests that some openings will be delayed by at least six months, she said.
Not everyone agrees. Andrei Vacaru, head of retail consultancy at Jones Lang LaSalle Romania, told BR that the total shopping center retail stock delivered in 2013 will be as much as 25 percent less than the 2012 figure when some 170,000 sqm was delivered.
"Some of the investors such as AFI Europe or Raiffeisen Evolution are developing projects on plots of land that were purchased prior to the crisis by changing the initial plans, adapting the concept to the present context. Hypermarket chains such as Cora and Auchan are taking advantage of the availability of some good plots of land at lower prices and using their considerable financial resources to develop their own projects," he said of the current situation.
The evolution of consumption remains a barrier to further expansion but more than everything else, securing the financing is the main deal breaker even though since the crisis started retail has been the best performing real estate sector in terms of obtaining bank loans. Where investments are carried out, developers continue to focus on Bucharest and large cities with less competition.
Regardless of the growth rhythm so far and the existing setbacks, the numbers show that there still is room for new shopping center developments, including large scale ones, in Bucharest, as well as other Romanian cities, say players. "Although, in overall terms, Romania has the second largest gross lettable area (GLA) amongst the CEE countries after Poland, adjusted to population size the country is still lagging behind in terms of GLA per 1,000 inhabitants compared to its CEE peers. This might lead to a faster growth in shopping center GLA than the CEE average in the years to come. Yet, this will depend very much on the progress of the local economy and of the recovery of internal consumption," Bogdan Belciu, partner, management consulting, PwC Romania, told BR.
Bucharest still has areas which are not sufficiently covered and which will attract investments over the coming years. Outside the capital, there are already cities that are saturated such as Suceava, Iasi, Constanta and more recently Brasov, while elsewhere, such as in Galati and Timisoara, there is still great potential for new developments, believes Petruescu.
However, although statistics show that there is still room for new shopping centers in many cities, simply building a mall doesn't mean it will be a success – as demonstrated by the numerous insolvencies and bankruptcies over the past couple of years.
"The past year hasn't brought major changes with regard to developers' strategies. However, the changes are considerable when drawing a comparison with the situation before the end of 2008 – surfaces have decreased, only shopping malls or retail parks located downtown and as close as possible to heavily populated areas are being developed, the tenant mix has become more important and now it is essential to secure the presence of as many international brands as possible (…). These trends will consolidate over the coming period," predicted Vacaru.
Adapting the concept and the future mall's tenant mix to the purchasing power of those living in the area goes without saying. "Over the last few years developers have understood that a shopping center's success depends on a series of factors and one can no longer rely on just one element to remain competitive. Location, tenant mix and a concept that is as well adapted to the area as possible – all these equally contribute to attracting as many shoppers as possible," said Petruescu.
Competition too is becoming more important, unlike before the crisis when in most cases it could simply be ignored. "At present developers are much more aware that a new project needs to be thought out in relation to what the market already offers. This is why many projects have resized their surfaces and changed their concept in order to complete the existing offer and not get into a competition that they know they can't win," she added.
Due in 2013
After several delays, the 15,000-sqm Uvertura Mall in Botosani, eastern Romania, should be the first shopping center to be opened this year, in March. The project is being developed by Romanian businessman Danut Prisecariu and required an investment of about EUR 15 million.
The most important new shopping center in Bucharest in 2013 will be the Promenada Mall project which is being developed by Raiffeisen Evolution. The 36,000-sqm mall will be located in northern Bucharest close to the Aurel Vlaicu metro station and is part of the Floreasca City project which also comprises the Sky Tower high-rise office building. Both projects have been delayed for several years following the crisis.
After acquiring the Tractorul industrial platform in Brasov from Flavus Ivestitii, French retailer Auchan, through its real estate arm Immochan, has also taken over the Coresi Brasov shopping center project. The 25,000-sqm mall should be delivered this year after an investment of about EUR 60 million. This too is a postponed project. The plot of land was bought in 2007 and the first phase of the future shopping center was initially due to have been completed by 2011.
Real estate development company AFI Europe Romania announced earlier this year that it had secured a EUR 30 million loan from Raiffeisen Bank International Group to complete the construction of the AFI Palace Ploiesti shopping mall.
The 28,000-sqm project should be officially opened on October 3 and it will be the second modern shopping mall in Ploiesti after Carrefour and New Europe Property Investments (NEPI) opened a 55,000-sqm retail center near the 200,000-inhabitant city in November 2012.
Other projects due for completion in 2013 are the Corall shopping mall in Constanta being developed by retailer Cora and a retail center by NEPI in Galati.
Beyond 2013
In addition to the new openings, 2013 should also see the beginning of construction of other shopping malls.
Austrian real estate developer Real 4 You plans to start the construction of a 70,000-sqm shopping mall on the grounds of the former industrial platform Electroaparataj in Bucharest after it obtained the building permit for the project in November 2012.
Mega Mall will be located at the junction of Iancului and Pantelimon roads, targeting inhabitants from the eastern part of Bucharest. The project is estimated to attract more than 900,000 shoppers and visitors (including from its secondary catchment area).
In addition to the project in Bucharest, Real 4 You Group wants to develop the Mega Mall concept in other cities such as Satu Mare, Foscani and Targu Mures.
The end of 2012 also brought the news that Portuguese shopping center developer and owner Sonae Sierra and Irish developer Caelum Development had formed a 50:50 joint venture agreement for the development of the ParkLake Plaza shopping mall in the Titan neighborhood of Bucharest. The project will require a EUR 185 million investment.
The now notorious ParkLake Plaza shopping mall is a good example of how many developers had to postpone and readjust investment projects following the crisis.
The project, first announced in 2007, was supposed to be the largest shopping mall in Bucharest at that time. Caelum Development had plans to invest EUR 500 million in the project which was initially intended to have a gross leasable area of 110,000 sqm.
One year later, the Irish developer reached the first joint venture agreement with Sonae Sierra but this was later torn up.
In 2011 Caelum Development announced it would resume the project and invest EUR 250 million in the future shopping mall, but works on the site have not advanced much. The latest announcement from the two companies is that ParkLake Plaza will have a 67,000-sqm gross leasable area (GLA) and will require a EUR 185 million investment. However, the actual date when works on the site will begin has not been announced.
Players are also investing in revamping existing projects. Anchor Grup, the owner of the Bucuresti Mall and Plaza Romania shopping malls, will invest EUR 50 million in upgrading the two centers, the company has announced. The rearrangement and reconfiguration of the two retail units should generate an additional leasable area of more than 20 percent. Works are expected to start this year.
simona.bazavan@business-review.ro