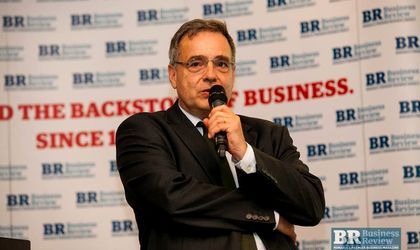 Romania needs to invest more in infrastructure, be it roads, the education system or public administration reform, to increase its competitiveness, argued participants in the sixth annual French Investors Forum organized by Business Review. However, overall the outlook is a positive one, they agreed.
Simona Bazavan
The macroeconomic results posted by Romania last year and during the first quarter of 2015 are making French investors more positive about their local business perspectives.
"I am very optimistic about Romania's future and this feeling is shared by my colleagues as well. Winston Churchill said that a pessimist sees the difficulty in every opportunity while an optimist sees the opportunity in every difficulty. If we look today at Romania we see that there are numerous opportunities and the difficulties are there to be overcome," said Eric Stab, president and CEO of GDF Suez Energy Romania.
Eric Faidy, the VP-head of Michelin Central & Southern Europe and also president of the French Chamber of Commerce and Industry in Romania (CCIFER), shared a similarly optimistic take. "Michelin has been present locally for over 12 years and we have also set up our regional headquarters here. I think that this is the best proof that on the long term Romania is a good place for Michelin," he said.
While the economic situation could be even better given the context, Romania is on an obvious development trend and "in a few years things will improve even further, said Christophe Weller, owner of Corporate Office Solutions
Romania's macroeconomic results in the first quarter are encouraging for new French investments as well, said Alexandru Nastase, secretary of state with the Department for Foreign Investments and Private Public Partnership.
But not all is rosy. Talking about some of the challenges companies face when doing business in Romania, panelists argued that many still come from the lack of fiscal stability. "We need fiscal changes to be more stable. Everyone remembers the tax on special constructions which has affected many industries," commented Dana Gruia Dufaut, partner at Gruia Dufaut Law Office.
Another major obstacle remains Romania's poor image abroad. "One of the main problems investors coming here face is exactly this image deficit Romania is struggling with. There is a considerable gap between people's perception of Romania and the reality on the ground. Reality is more often better than the perception. We as investors have a duty to remedy this and the Romanian authorities too should address this and make sure that this gap is reduced," said Stab.
Let's talk infrastructure
Infrastructure too remains a problem. Romania needs more investments in its road network to boost its economy, but investments in upgrading its public administration are just as necessary, said Francois Saint Paul, French Ambassador to Bucharest, during the event.
"This country has huge potential, but with some conditions. This potential can be achieved only if some necessary steps are taken, meaning if the required infrastructure for growth is built. I am thinking of highways but also of investments in the healthcare system and education. Generally, when I think about reform I think about modernizing the administration. For me, the priority would be investing in administrative reform because this would ensure continuity," outlined the ambassador.
He added that building highways and reforming the administration are linked and that progress in this area is a matter of time.
On the topic of how French investors perceive Romania's recent progress, the ambassador said that the general view is a positive one. "Over the past year since I came to Romania, I can tell you that I have been surprised by how much French investors are attached to Romania. They believe in Romania. This includes large companies as well as smaller ones. Over this past year I have never met people from a French firm that said they wanted to leave Romania, none that complained about not being able to run their business or that local partners were causing them trouble. I have only met people that wanted to take advantage of the opportunities they find here," concluded the ambassador.
The competitiveness card
Increasing competitiveness is a key requirement for ensuring further economic growth, stressed participants. This is firstly needed to maintain Romania as an attractive destination for new investments.
"GDF has been present in Romania for ten years and we have invested over EUR 1 billion. We too have chosen Romania to set up a regional headquarters because if we were to compare the country to its neighbors, we see that it has a lot to offer. I know that there is competition between countries in attracting new investments and we need to make sure that Romania remains a welcoming country," commented Stab.
Maintaining competitiveness is also an objective for investors themselves. "Our target is to remain competitive both from an operational and industrial perspective. We want to ensure our future here and to come up with new projects. This is a very competitive industry. We always need to come up with new things, to redesign and innovate," said Nicolas Maure, general manager of Dacia Renault Romania. He added that the carmaker's success in Romania is "undeniable", with the company accounting for 3 percent of the country's GDP and 8 percent of its exports.
This need to increase the local economy's competitiveness was highlighted once more earlier this year when the CCIFER launched its Competitiveness White Book, a set of 52 proposals intended to help transform Romania from a low-cost economy to a competitive one. Talking about this initiative, Edouard Millot, partner at Finexpert and the event's moderator, said the project tries to build a partnership between the public and private sectors. "It is an attempt to propose an administrative-fiscal background that would offer support for innovation and professional training," he added.
"This is something that was put together by company managers, people who understand the opportunities and difficulties of doing business here. It cannot change things overnight, but these 52 concrete proposals are meant to ensure our companies' competitiveness," said Faidy. One such measure would be changing the fiscal year for farmers according to the calendar of agricultural activities. This would help farmers in their relations with banks for example, he noted.
The people problem
Competitiveness and recruiting the right people for the job go hand in hand and here French employers are beginning to have a hard time on the local market, said participants. On one hand it is becoming increasingly challenging to find the right people, as many skilled workers have left to work abroad and the local education system is not well-tuned to the needs of the labor market. This is pushing employers to invest in training programs meant to remedy this deficiency.
On the other hand, once the right people are found it is becoming harder to retain them. "Raising salaries is one way, but it is about much more than this. It is about offering them the right conditions to develop their talents in a pleasant environment," said Weller.
In their quest to increase productivity, companies have changed their entire approach to handling HR matters, said Adela Jansen, HR executive director at BRD. "The entire business approach has changed. Before there was a focus on low-cost in many industries, including in the banking sector. Now this no longer applies. A concrete example is how employees offering clients support for their information requests have become consultants," she commented.
Moreover, salaries will continue going up over the coming years and their growth rate will be above the Western European average, said Denis Alnitei, organizational development manager at Orange. "The real challenge is smoothing relations between companies and universities so that the number of specialists will continue going up," he said. Another piece of good news and sign that the labor market is evolving past a low-cost model is that the salary is no longer the main focus for candidates. This is especially the case for young applicants who are increasingly more interested in the professional growth opportunities an employer offers.