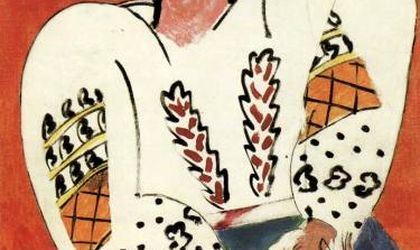 On May 17, the Romanian Cultural Institute (ICR) New York will publicly open the exhibition "La Blouse Roumaine", displaying the private collection of folk costumes belonging to Cristian Pascu, the President of "Dorul" Society (founded in 1903, under the initial name of "Romanian National Club Carmen Sylva"). The exhibition, called "La Blouse Roumaine" after the famous painting by Henri Matisse of the same name, will also feature several Romanian Ie, the type of blouse that appears in the Matisse work (in picture).
The show brings together around 25 pieces of Romanian folk costume and explores through a slideshow the role played by traditional garments both in the construction of the public and private images of Romanian Queens Elisabeta and Maria and in Romanian fine arts, particularly between the two world wars. The event also highlights the status of the folk costume as object of patrimony, showcased today in museums, or as source of inspiration for the designs of famous fashion houses like Yves Saint Laurent.
A significant visual counterpart to the collection, also in digital format, is the series of portraits "The Romanian blouse" signed by the French painter Henri Matisse and significantly influenced by his friendship with the Romanian painter Theodor Pallady. The event borrows its name from one of the best known works in this series.
The event will be held in the art gallery of ICR New York and will be preceded by a colloquium at which keynote talks will be delivered by Doina Uricariu, Director of ICR New York,  Eduard Andrei, Ph.D., curator of the show, Cristian Pascu, and Theodor Damian, Ph.D., priest and professor.
The exhibition will remain open until June 17th, 2013. Address: Romanian Cultural Institute in New York, 200 East 38th StreetNew York, NY10016 (at 3rd Avenue)
Oana Vasiliu