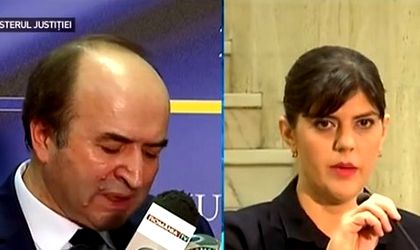 The minister of justice, Tudorel Toader, cited the results of an assessment regarding the activity of the National Anticorruption Directorate (DNA) in the past year and concluded that the head of the DNA, Laura Codruta Kovesi has to step down.
President Klaus Iohannis will decide if he accepts or rejects this request, which also has to be vetted by the Superior Council of Magistrates.
On Tuesday evening, the presidential administration said that the evaluation of the DNA made by Toader is different from the one made by president Iohannis so a "thorough analysis of the report" will be made by specialized departments from the administration. It added that the president maintains his opinion that the DNA is doing a good job and that the head of state will use all his constitutional rights to safeguard the independence of the judiciary and the rule of law.
"You know my opinion. The current leadership of the DNA is doing a very good job," said Iohannis on February 15. At that time, he said that some individuals with legal issues were trying to "discredit" the DNA.
Toader invoked 20 points from the report, suggesting that Kovesi's management style "can endanger" the institution she has been leading since 2013.
"The DNA has to function legally. The DNA can't be identified with its chief prosecutor, whose actions proved that they can endanger the institution she leads through excess of authority, discretionary behavior, by defying the activity of the Parliament and by challenging the decisions of the Constitutional Court and its authority," said Toader.
The minister added that Romania's fight against corruption has to continue with respect to the rule of law.
Toader said that the attempt of anticorruption prosecutors to "obtain sentences with any price" breaches the rule of law. Furthermore, the minister said that the DNA went overstepped its legal limits and started to evaluate the opportunities regarding the adoption of government decisions.
The minister of justice went on to say that the constitutional judges ruled in 2017 that the DNA breached the Constitution twice through its behavior.
During Kovesi's mandate, the DNA prosecuted dozens of high ranking political officials including MPs, heads of county councils, mayors, alongside some of their relatives.
Anticorruption prosecutors started an investigation against Victor Ponta while he was PM. Both the brother and nephew of former president Traian Basescu got jail sentences in cases that were investigated by the DNA.
Kovesi recently stated that she has no reason to step down. Her reaction came after former MP Vlad Cosma, who got a 5-year jail sentence in a corruption case, accused certain DNA prosecutors of faking falsifying evidence to frame certain influential politicians.  He referred to Victor Ponta and Sebastian Ghita, the controversial businessman that is wanted in several corruption cases. Ghita is currently living in Belgrade, Serbia, and Romanian authorities are trying to extradite him.
The head of the DNA rejected allegations that the prosecutors faked evidence during their investigations.