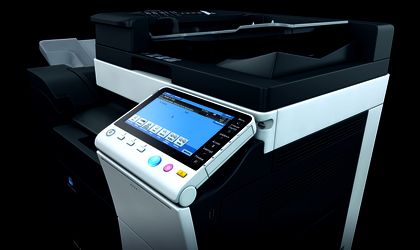 Konica Minolta holds a 34.8 percent share of A3 colour multifunctional equipment (MFP) market in Romania and a 51.8 percent of black and white devices, according to company information.
In Europe, it achieved a 21.2 percent market share of A3 colour multifunction machines, with over 141,300 MFP sold and the digital production segment recorded a 33.8 percent market share with sales of over 6,200 production systems. This ranks the company in first place both in Europe and locally, say company representatives.
Konica Minolta is undergoing a strategic shift on the European market, aiming at transforming it into an IT service supplier. The company's main objective for the coming years will be evolving from selling hardware, a company priority to date, to developing its Managed Services portfolio.
"Our aim for the coming years is to strengthen Konica Minolta's position as an IT services provider on the European B2B market and become one of the leading suppliers in this area," said Ikuo Nakagawa, president of Konica Minolta Business Solutions Europe. "To this end, we launched at the beginning of 2014 fiscal year a mid-term business plan, entitled TRANSFORM 2016, which means that we are in the process of radical transformation," he concluded.
Konica Minolta Business Solutions Romania, a subsidiary of Konica Minolta Business Solutions Europe, was established on October 1, 2003, on existing structures of Minolta Romania, following the merger of Minolta Co. and Konica Corporation. Konica Minolta Business Solutions Romania kept the structures and sales network of Minolta Romania, benefiting from the experience of over 24 years on the Romanian market and a distribution network of over 60 partners.
Konica Minolta Business Solutions Romania distributes and provides services for MFPs, faxes, printers, digital printing equipment and provide Optimized Print Services based on document management solutions.
Natalia Martian