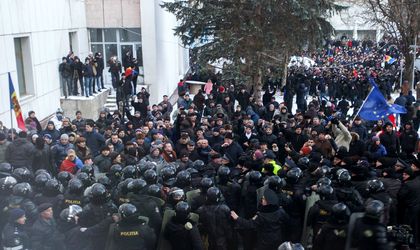 President Klaus Iohannis saluted the appointment of new Republic of Moldova government in a press release from Thursday, the same day he and Nicolae Timofti, his Moldovan counterpart, had a phone conversation regarding Romanian-Moldovan bilateral relations and the current socio-political situation in the Republic of Moldova.
Chisinau, The Republic of Moldova capital city, has seen a slew of violent protests over the past few days following the appointment of the Pavel Filip government on January 15, according to Mediafax.
Considering the appointment of the self-declared pro-European new government in the Republic of Moldova to be "an important step towards overcoming the political crisis", Iohannis also mentioned that "the stability of this state is important both for Romania and the European Union", according to the press release from the Romanian presidency.
During the phone conversation between the two presidents, Iohannis said that the appointment of the new government represented a step made by the Republic of Moldova towards "implementing the Association Agreement with the European Union", according to a press release from the Moldovan presidency. Moreover, "the two countries' availability for intense cooperation on the political, economic and social planes" was reinforced, further adds the press release.
Romania and the Republic of Moldova have tried economic cooperation in the past, when back in October 2015, Romania granted a EUR 150 million loan to the Republic of Moldova that it later withdrew after Iohannis asked for a reevaluation of the law bringing the loan into force, showing concern due to the uncertain political situation in the Republic of Moldova at the time.
Presently, the situation in Chisinau remains tense. Timofti urged calm among the protesters after the new government led by Filip was sworn in on Wednesday, and while on Thursday the protests remained non-violent, a new wave was announced for Friday at 10am, according to Digi24.
Andreea Tint