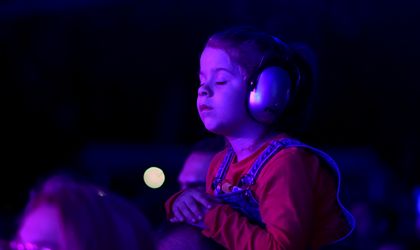 Just as you teach your children to wear sunscreen, use a seatbelt, and wear a bicycle helmet, teach them to wear hearing protectors to limit noise exposure. Why? Because serious repercussions can take place – from temporary hearing loss to permanent damage for their ears. BR talked with Ionut Tanase, resident ENT physician, Scientific Research Assistant at Clinical Hospital "Saint Mary", Bucharest, about the consequences of exposing human body at loud sounds.
By Oana Vasiliu
Editor's note: I've spent this summer travelling to all kinds of festivals all over the country and I was really surprised by the number of children who attended these events. "Amazing", I said to myself – culture should be for everyone. But my eyes were on stalks when I realised that most of the children attending live concerts at these festivals weren't wearing hearing protection of any kind. In some situations, the sound was incredible loud for my ears, so I took a step back and watched the performance of the artist from behind because my head couldn't resist to what was happening on stage. But parents holding their toddlers on their shoulders were there, in front of the stage, enjoying the show, without using any protection for the kids. Doing a short research, I found out that U.S. Department of Health & Human Services has a special portal for this topic. They say that "The louder the sound, the quicker hearing damage will occur. For example, your children should use hearing protectors when attending loud events in stadiums, gymnasiums, amusement parks, theaters, auditoriums, and other entertainment facilities; attending auto races, sporting events, and music concerts of all types, including symphonies and rock concerts; riding a snowmobile, all-terrain vehicle, or farm tractor."
Business Review: How many decibels typically supports human ear? There are differences for adult / child?
Ionut Tanase: To understand hearing, we must know how it is perceived by the human being. As a result, we understand sounds as vibrations from the environment with different intensities and frequencies. The sound is picked up by the outer ear that plays the role of a funnel which passes through the ear canal, puts the eardrum into vibrations acting mechanically upon the middle ear (hammer, stirrup, anvil), by following these sounds to continue the path to the inner ear where they are converted into electrical impulses that reach the brain where they are perceived as true sounds.
The hearing sounds limits are at the minimum that can be perceived by the human ear and we mark it as the lower threshold  0 decibels, respectively the upper limit where we meet a painful threshold at 140 decibels. A superior sound over this border can not be interpreted properly, the transmission of the sound is distorted by the body's analyser, reaching the individual to feel even a painful sensation.
In everyday life we ​​meet different kinds of sounds at different intensities so we have some examples: ambient sound is 10 decibels, a casual conversation has 40 decibels, the noise of the vacuum cleaner goes up to 60 decibels, 70-80 dB is the noise of a train, while the airplane engine goes up to 100-110 decibels.
Returning to your question, there are studies showing that the adult normal hearing threshold is around 25 dB, while the child is 15 dB.
Business Review: What are the immediate effects of exposing a child to loud music? But on the medium and long term? What can happen if the music is too loud for a kid?
Ionut Tanase: Exposing a child but also an adult to a polluted environment can cause fatigue as  initial effects, manifested by persistent tenderness of hearing even after the completion of the noise. Loud sounds, those over 140 dB, can be manifested by pain felt with exposure to auditory stimulus. Strong auditory stimuli produce changes in the hair cells of the inner ear, to cochlea to be more precise. Some late effects are sound trauma represented by sensorineural hearing loss characterised by reversible or permanent loss of the hearing after exposing to a very intense and long lasting sound. Also, we sometimes have so-called tinnitus which are basically some perceived wrong noises like so-called ringing or roaring. There may be unilateral or bilateral hearing cells responsible for transmitting electrical impulses do not work properly and the brain interprets as a wrong sound.
Business Review: What are your recommendations for a child's participation to a live concert? Are the hearing protections of real help?
Ionut Tanase: To avoid these troubles, a child should not be exposed to noise or to polluted environments, but is highly recommended to wear earplugs which soften the sound to 15-25dB or helmets that filters out the ambient sound. At a live concert, the sound reaches thresholds between 85 -130 decibels enough to be harmful both for adults and especially for children.
Daily practice and studies note that exceeding by 5 decibels above the threshold of 95 dB exposure to these stimuli give negative reactions. For example, a concert with a sound intensity of 100 dB for 15 minutes is similar to a exposure to 95 dB for 45 minutes.
Another trauma can appear while wearing earphones over an extended period of time, at high volume, something that is increasingly common for children who are using all sort of gadgets. When using these devices, you must consider the rule "60:60" which involves their use to 60% by volume for no more than 60 minutes a day.
Recently in Canada it was published a study which shows that 13% of children aged under 14 years were diagnosed with various stages of loss of their hearing up to 15 decibels, which seems to be due to their participation in such concerts, using toys that produce loud sounds (such as staple guns, fireworks, firecrackers) but also excessive listening music with headphones type devices.
If your kids have started to listen to music and now have their favourite artist/band, they'll sure ask you to go and see them in a live concert. Better safe then sorry, so before you say "yes", do your preparations to make sure it would be fun and safe for everyone going.
Photo courtesy of Flavius Neamciuc for Plai Festival