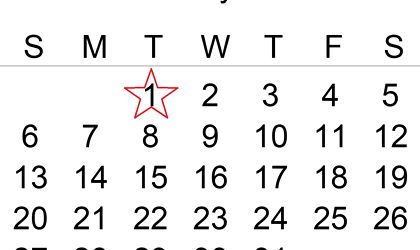 July is set to debut with a series of increases among which higher salaries, prices and fines. Starting with July, Romanians will earn bigger wages, electricity bills will include the famous special property tax and the price for natural gas will also experience a hike, fueled by the National Energy Authority's (ANRE) decision to increase gas imports during the summer.
And yet it's not all bad news for July, given that roaming charges are going to drop and the tax exemption for reinvested profit will come into effect. Business Review presents what you absolutely need to know about what is going to change on July 1.
New minimum wage – The national minimum wage will increase from RON 850 to RON 900, the second increase this year. The first took place in January when the salary went up to RON 850 from RON 800.
Bigger fines – Given that the value of driving fines is calculated based on the national minimum wage, should it go up, so will the amounts that drivers have to pay for misdemeanors. Therefore, starting with July 1, the lowest possible amount that will be fined will be RON 180 and the highest can reach RON 1,800. Companies will pay for their misconduct between RON 1890 and RON 9,000.
Roaming charges – From 1 July 2014, the EU will cut the price caps for roaming charges:
– making calls drops to 19 eurocents / minute (-21 pct);
– receiving a call drops to 5 eurocents / minute (-28.5 pct);
– sending a text message: 6 eurocents (-25 pct);
– data downloads: down from 45 cents per megabyte to 20c/MB.
What's more, from 1 July 2014 mobile providers in Europe can offer you a specific roaming deal before you travel and, where available, allow you to choose a local mobile provider for data services such as emailing, reading the news online, uploading photos and watching videos online, in the country you are visiting.
Higher natural gas prices – The government has made the decision to increase natural gas imports, which will lead to a price hike on July 1.
"This should mean a 1.5 percent price increase for industrial consumers which pay regulated prices and a 2.5 percent increase for household consumers", according to ANRE.
Higher electricity prices – The ANRE announced last week that starting with July 1, the special property tax paid by Hidroelectrica and Nuclearelectrica will be included in electricity bills. According to Marian Cernat, ANRE director, this could mean an increase of RON 10.5 /MWh for electricity supplied by Hidroelectrica and a RON 8.3 / MWh increase for Huclearelectrica. This year, Hidroelectrica will have to pay in total RON 163 million in taxes for special constructions, while Nuclearelectrica will pay RON 100 million, according to ziare.com.
On the other hand, ANRE announced last week that electricity prices for Romanian households are expected to fall by 2.6 percent on average as of July 1, mainly following a 46 percent reduction of the cogeneration tax, so we have yet to see what actually happens.
Profit tax  – The profit invested in new technological equipment, manufactured and / or acquired and commissioned during the period 1 July 2014 – 31 December 2016 is exempt from profit tax. In order to benefit from this incentive, the technological equipment should be used by the taxpayer for business purposes for more than half of its useful life, but for no longer than five years.
New obligations for gas producers – Romanian gas producers will have to trade a part of their output on the commodities market from July 1, with natural gas suppliers expected to join the initiative in 2015. OMV Petrom SA and Romgaz SA, the two largest gas producers in the European Union, will be forced to trade part of their natural gas output and the decree applies to imported gas as well.