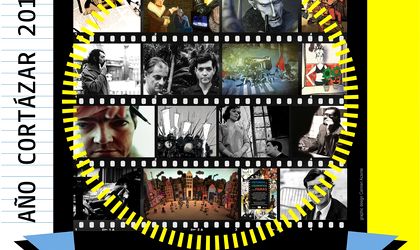 A series of events marking 100 years since the birth of the Argentine writer Julio Cortazar will take place starting today at the Cervantes Institute in Bucharest. Four Argentine films, including three feature films inspired by the stories of the author and a biographical documentary Julio Cortazar by Tristan Bauer.
Several meetings with some of the Romanian translators of Julio Cortazar – Tudora Sandru Mehedinti, Luminita Voina-Raut, Marin Malaicu Hondrari and Lavinia Similaru – will also take place.
The events are organized by the Argentine Embassy to Romania and the Cervantes Institute in Bucharest.
Entrance is free, seating is limited. Reservations can be made at cult3buc@cervantes.es.
The program is the following:
Monday, November 24th
19.00 Historias de Cronopios y de Famas
Directed by: Julio Cesar Luduena
Tuesday, November 25th
18.00 Round table: Translators on Cortazar
19.00 Cortazar
Directed by: Tristan Bauer
Wednesday, November 26th
19.00 Circe
Directed by: Manuel Antin
Thursday, November 27th
18.00 Round table: Translators on Cortazar
19.00 La cifra impar
Directed by: Manuel Antin