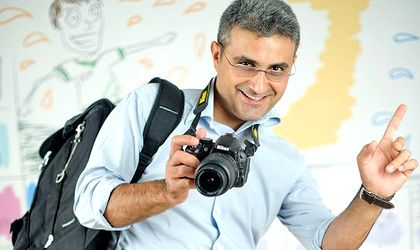 Robert Turcescu, journalist at the B1 TV station, shocked the public opinion on Sunday morning when he posted on his blog a text in which he confessed he acted as an undercover army officer.
Later that day, Turcescu confirmed the post on his blog live on B1 TV, where he spoke for only 20 minutes.
The text on the journalist's blog said: "Yes, I was undercover lieutenant- colonel. I am publishing below several of the payment records, with the sums of money I received. I chose not to betray God and make this public confession. I refuse to be Judas in front of Christ, even though today, those who will read or see this text will not understand very clearly what is going on. Pray for me and with me to be forgiven and redeemed. I am ready to face the public outcry, I deserve it, but I hope we will have fair laws and judges. God help and everything will be fine. I ask forgiveness from you all."
The blog post was accompanied by a copy of a military book with Turcescu's picture and two payment records.
At the moment, the journalist's blog is no longer functional, and does not appear on his Facebook page either.
Turcescu, who anchored a talk-show at B1 TV called Sub semnul intrebarii (Under Question) announced he would no longer host the show and will withdraw from the media at least temporarily and is ready to face all the legal consequences of his actions.
The public opinion was shocked by Turcescu's statements.
The Ministry of Public Defense (M.Ap. N.) will not make any statements regarding Turcescu's statements in a statement on the website of the institution."The Ministry of Public Defense will not make any statements regarding this subject. M.Ap. N. is applying the laws of the country and believes the debates that can hurt the image of the Romanian Army are not beneficial. If any irregularities are found, other state institutions have the competency to take a stand," according to the press release.
Prime-Minister Victor Ponta also declined to comment on this issue for the media.
Picture from Turcescu's facebook page.
Otilia Haraga