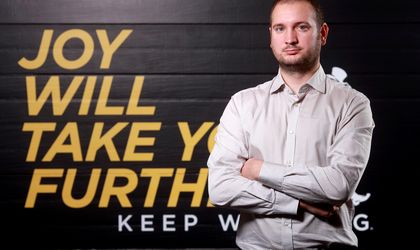 Johnnie Walker celebrates the joy of life in a new campaign, developed in partnership with Anomaly, and the foundation for growth over the next decade. Rooted in deep consumer insight, the "largest ever global marketing campaign" tells true stories of people who have genuinely walked with joy as their approach to life. Aiming to go beyond product benefits, the campaign takes a strong insight and idea and brings it to life with outstanding creative. Radu Diaconu, brand manager at Johnnie Walker in Romania, told BR more about the brand's new positioning and marketing roadmap.
Romanita Oprea
How and why did you decide to change the brand's positioning?
After 15 years of the iconic "Keep walking" campaign with BBH it was time to shake things up. Johnnie Walker will continue to be the image of personal progress but the new tagline, "Joy Will Take You Further. Keep Walking," moves the campaign from a work-hard-and-persevere message to one that promotes the idea that joy is the key to achieving progress. The old tone didn't resonate in the way it used to anymore and we found that, even though hard work works, joy works harder. The new campaign is meant to convey the idea that if you start from a place of happiness, optimism and joy, it is a much bigger accelerator of people's progress and success in their lives.
How did you choose the agency internationally and what are you doing differently in Romania?
The new agency for Johnnie Walker is called Anomaly, it was founded in 2004 and is a new-model, multidisciplinary marketing advertising agency, with offices around the world including New York, London and Amsterdam. Anomaly was chosen after a pitch that included 15-year incumbent Bartle Bogle Hegarty as well as BBDO, Ogilvy & Mather and Wieden + Kennedy. We were hugely impressed by the far-reaching creative vision which Anomaly proposed for our brand as well as with the strategic thinking that lies behind its development.
I believe that the "Joy will take you further" message is one that also resonates with the Romanian audience and is one that we should try to follow as a country. From a young age we have been thought that if we keep our heads down, work hard and persevere we will eventually succeed and then we will be happy. We don't have to wait that long for happiness; we can incorporate joy everyday in what we do and use it as fuel for our success.
What are the main vectors you are focusing your campaign on here?
The central pillar of the campaign is the "Joy will take you further" film that presents different stories on how "Joy" is the secret ingredient to the success people have had. It features well-known celebrities like Jude Law, Jenson Button and Mika Hakkinen, that are meant to inspire people to put joy at the heart of their lives. We aim to inspire Romanians to take up this philosophy by disseminating the message via various channels, making it as known as possible, with a focus on social media and PR.
How did you choose Porter Novelli and what are your plans for the collaboration?
After a PR pitch, we chose Porter Novelli to be the local agency that will help us spread the "Joy will take you further" message. They have a team with large know-how of the Romanian market and they perfectly understood what Johnnie Walker and the new campaign are about. Even though it is the first time that PPD Romania works together with Porter Novelli, I look forward to a fruitful collaboration.
What were the main findings of your happiness study?
The fact that joy fuels success is not just a marketing statement. According to Dr. Matt Killingsworth, a US-based psychologist and scientist who studies human happiness, this insight is scientifically correct. His studies have shown that happier people are more productive, collaborative and creative, are more resilient to challenges and better liked by those around them. Dr. Matt Killingsworth has collaborated with the Johnnie Walker marketing team in the development of the "Joy will take you further" campaign by adding his expertise in the science of joy. "Joynomics", the study of joy and progress developed by Dr. Killingsworth, synthesizes the most important principles that should guide us once we realize that happiness is not a destination but the journey. Among these, gratitude, appreciating the "now", empathy and adaptability, as well as physical activities are ones that bring us happiness.
What surprised you the most and why?
Most of the findings are concepts that seem very obvious and normal but the road from knowing and doing is one that each of us must walk. It was interesting to find out that "mind wandering", the state where your mind flows to a different thought other than the present, has a bad influence on our level of happiness. And that's because it mostly wanders to stressful places and things we worry about.
How would you characterize the whisky market and industry in Romania?
Unlike most European countries, the imported spirits category represents only about 7-8% of the total market, the rest being local spirits.
Romania is quite a developed market in terms of product availability with all categories present: Scotch whisky, blended and single malt, American bourbon, Irish and Canadian whiskey. Unfortunately, the general knowledge of the majority of consumers regarding the Scotch whisky category is not at a developed level at this moment. However, this is something that we have to work on in order for consumers to improve their perception of whisky.
One trend that is also beginning to surface in Romania is mixology, as more and more places that serve good cocktails open up and bartenders become full-time professionals, not just summertime employees.