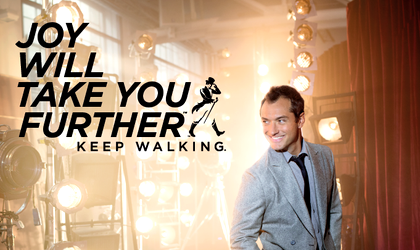 Stars align with Johnnie Walker to celebrate joy as key to progress in life and career. Formula One World Champion and McLaren Honda driver Jenson Button, Oscar-nominated actor Jude Law and Chinese actor Zhao Wei are among a growing number of people who epitomise a way of thinking that challenges the conventional wisdom that success guarantees happiness and instead celebrates the fact that happiness actually helps people achieve more.
The positive outlook of these successful celebrities – people who seek a competitive edge – has led to them being featured in a new global campaign from Scotch Whisky brand Johnnie Walker called Joy Will Take You Further, alongside a range of other extraordinary people from all walks of life.
"Throughout my career I have had to have joy to succeed. Because I love this sport so much I feel that I've been able to enjoy the good times and when things have been harder I've been able to find a way out of the situation, be more positive and help the team move forward," said Jenson Button.
On his turn, actor Jude Law added that keeping positive and finding the joy every day in the job that he does is part of his philosophy and he thinks that's one of the things that has helped him keep moving in his career.
Other celebrities who advocate this approach to life and appear in the new campaign include US alt-rock band OK GO and Mexican supermodel Montserrat Oliver. Their understanding of success and progress aligns with the results from a growing body of scientific research into the power of happiness.
Commenting on the campaign launch Johnnie Walker global brand director Guy Escolme said: "As a brand Johnnie Walker has always stood for progress – it's been the story of our whisky since our founder John Walker started it all nearly 200 years ago. What two centuries of experience have taught us is that progress doesn't have to be an endless uphill journey – we can enjoy the steps we take and the more happiness we find in them the more likely we are to achieve our goal. Evidence is confirming a conviction that sits at the heart of our brand: Joy Will Take You Further."
"The launch of 'Keep Walking' marked a fundamental shift in the way scotch was marketed and kick started a decade of transformational growth for both Johnnie Walker and the category as a whole. I am hugely excited about the potential of this new campaign to drive Johnnie Walker forward to the next decade of growth. It is rooted in deep consumer insight and tells true stories of people who have truly walked with joy. At Diageo, we believe in building brands with purpose – meaning that goes beyond product benefits – and this is a great example of an incredibly strong idea that is brought to life with outstanding creative," commented Syl Saller, chief marketing officer Diageo (owner of Johnnie Walker).
Dr Matt Killingsworth, a US-based psychologist and scientist who studies human happiness, acted as a consultant for the campaign. "People sometimes think of happiness as a far-off, distant prize only to be won by their years of hard work or when they achieve conventional markers of success, like a higher income or a bigger house. But there is a growing body of evidence that enjoying happiness along the way makes success more likely," explained  Killingsworth.
Diageo is a global leader in beverage alcohol with an outstanding collection of brands across spirits, beer and wine categories.  These brands include Johnnie Walker, Crown Royal, J&B, Buchanan's and Windsor whiskies, Smirnoff, Ciroc and Ketel One vodkas, Captain Morgan, Baileys, Don Julio, Tanqueray and Guinness.
Diageo is a global company, and our products are sold in more than 180 countries around the world.  The company is listed on both the London Stock Exchange (DGE) and the New York Stock Exchange.
Romanita Oprea