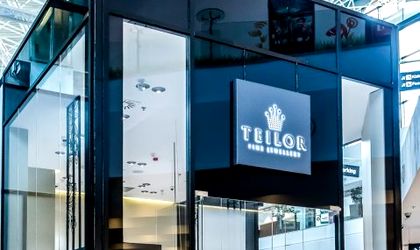 After posting a 51 percent annual boost in sales during 2015, reaching RON 31 million (EUR 6.8 million), luxury jewelry stores network Teilor announced it aims for a RON 42 million (EUR 9.2 million) turnover this year.
Teilor opened ten new units during the previous year, five of them in the capital city, inside shopping malls such as AFI Palace Cotroceni, Mega Mall, Promenada, Bucuresti Mall and Unirea Shopping City. Across the country, the company aimed for large cities like Brasov (Coresi Shopping Resort), Cluj-Napoca (Iulius Mall), Iasi (Palas Mall), Craiova (Electroputere Parc Mall) and Pitesti (Pitesti Mall).
The stores cover a total area of 636 sqm and absorbed an investment of over EUR 1 million (some EUR 1,500 per sqm) in fitting and decor alone, not taking into account the jewelry in stock.
Diamond encrusted jewelry represented 36 percent of the network's sales in 2015, while during the previous year they held a 24 percent share. Most popular in this category were diamond encrusted earrings, followed by diamond rings (excluding engagement rings). Wedding rings brought Teilor sales worth RON 4.5 million.
The company states that the increase in turnover envisioned for this year will be supported by a continued expansion, by the launch of new jewelry collections and also by online sales, which present a positive trend.
Among cities in which Teilor aims to open new sale points in 2016 are Constanta and Timisoara, but also Bucharest, in the new Park Lake complex, followed by stores in Cluj-Napoca and Timisoara in 2017.
Company representatives say the network could take into account expanding outside Romania, but not before 2018.
Natalia Martian