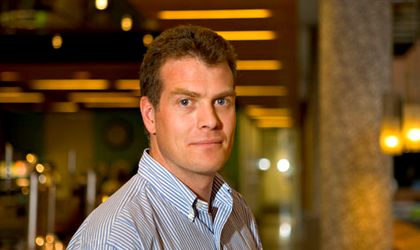 He has started his career in Lowe in 2006 and took top positions, as Director of Central and Eastern Europe and Russia (2008-2011), Global Business Director for Unilever at Lowe & Partners Worldwide and CEO of Lowe Thailand, a key agency in Lowe and Partners' Asia Pacific operation. Starting September 2013 he has been appointed President of Lowe Europe, Middle East and Africa.  I met Jeremy Hine during his latest visit in Romania and we've talked about where the industry takes us, creativity tips and Lowe Group Romania and its power in the network.
Romanita Oprea
How do you consider that the Romanian advertising industry has changed in the last 3-4 years?
Certainly from a media pent perspective, unfortunately, it hasn't really changed much. We've seen that after the fall of 2008-2009 that the market confidence, and therefore the level of spent haven't come back. I think that this is the first year we see some positive recovery. The market will grow, not by a lot (2,5 percent), but it's good to see that the confidence is coming back. It's also a growth in the national GDP (of 3 percent). I think that the companies, the marketers will spend more and we have to work really hard with our clients, with the portofolio of clients that we've got. For example, with Unilever, who are producing a lot of FMCG daily goods, that you need through the recession period, that allows us to keep working hard and do the best every day.
Hopefully the time of growth is permanent now and we will see more and more growth.
Do you believe that the tax reductions (such as the reduction of the VAT) will help the growth as well? Do you believe that marketers are going to start spending more advertising money right now?
I think they will start spending more. We've seen all across Europe that the growth is quite delicate and it varies from market to market. Spending is coming back in the UK, as the economy is starting to grow again as well. If you look at other economies like Greece or Italy where we know it's still difficult, the confidence hasn't returned sufficiently to do that.
Also, we, as marketers and agencies, have to encourage the consumers to start spending more.
What about the creativity side? What do you consider it and what do you see?
I think Romania is a good market. And if I look at the quality of work that my colleagues here are doing, it's good and it's just not only across traditional media. Some of the historic activations we've done are based on broader ideas, for clients such as Johnson & Johnson, or Becks. It's not just about the tv, but about taking an idea and trying to spread it right across channels. We also have a fantastic PR division that is bringing great ideas in other areas.
As I travel around a lot of different markets, I think that probably the people here believe the work is not good enough, when they benchmark it, but they always look to America or the UK – the homes of creativity. I don't think that's the case. I believe there are some good cases in Romania and the Romanian work is getting awarded.
Each market can learn from each other, but the work here is strong, although you feel that you must always have that drive to make your work better. But you've got the potential to do it.
Do you believe that there is still a difference between the creativity we see daily and the one presented at the advertising festivals? Do you think that the agencies are starting not to create "false" work anymore?
Both still exist. We have to be realistic about it. I know what you mean in terms of "scam" work. It still exists and in some markets more than in others. But I think that we owe it as a study to ourselves and as a duty to our clients to do the best work that we can, from proper briefs.  Our agency in America has done a fantastic job for American Greetings. That wasn't scam work, it was genuine and it went out there a lot, in terms of online content. It was the most viewed video on youtube and on the web on that month. It all has to come down to an element of pride. You have an idea and you work closely on that idea, you have a strong relationship with your client, then you can do brilliant work.
Now, there are always moments when agencies want to do some proactive work and agencies also do some great work for charities and other NGOs that have a more creative approach, but I think there is less tolerance in the creative community now about what is or not genuine work, than it was 10 years ago, let's say. People have greater pride in knowing awarded work is genuine work.
Tell us more please about the Lowe Romania positioning in the group, especially in the CEE region and how do you see the group growing here?
Lowe Romania is viewed really well within the network. I think that if you come here to see the quality and the range of services they can offer as a group, that is really powerful. And I would say that in the CEE is the most developed and accomplished set of services and leadership in the region. To walk into this building and to have advertising, PR, media, digital, mobile – all that in one house- is very strong. And not all my markets have that. So, from that innovative point of view, this market is really good.
The other thing that I believe in really strong is the leadership that we have here. You know, Paul Radu and Veronica Savanciuc– the founders-are still here. Octav (w.n. Popescu), Hortensia (w.n. Nastase), Manu (w.n. Manuela Gogu), all the others have been here for a long period of time and I think that gives you stability, continuity, something that is really important to clients. And if we look at our relationship with Unilever, Orange, Electrolux, J&J – those together have been with the agency together over 60 years – and I think that clients appreciate that consistency.
But what is the agency that you see that is the star of the Lowe group in Romania and what are the ones that you think about putting more focus on this year and the next one?
I think you have to focus on all of the agencies. From my role, I have to look and see how can I help from outside the network to bring resources in Romania to help. The group here is very well run and I think that the leadership on the brands is good as well. Golin has proven to be one of the best offices in the world. I was with the president of the Golin discussing Romania and he had a fantastic opinion about it, he is really proud of the teams here. And also elements like SeniorHyper and MobileWorks are I think quite pioneering for this particular market. There aren't too many mobile marketing agencies on the market, so I think that what happens in the group is fantastic. How I can help is advice, bring resources to the market, even inspiring the people with some of the work that we do internationally, bringing knowledge form the clients and cases studies, etc.
I'm never going to know Romania like the local people do, but if I can bring some assets from the network to Romania to help motivate, stimulate, educate, something that, for me, is really important and I am happy to do it.
What were the main important advices that you offered the team this time?
There was a very strong core idea to all the work I presented today: the presentations can be fantastic, but unless there is a great and engaging idea, one that inspires and touches people you cannot have success. There is so much work out there that is average, so you really need to rise above that and get something really engaging and strong, whether is humor or emotion or disruption, with a very strong thought and simple idea. We all know that for the consumers advertising is not the most important thing in the world. If we can find something that is genuinely engaging and relevant for them, they will share it, so exponentially the message will become broader and wider. You will be smart with your media budget.
In Romania some time ago it was a trend about virals and all the clients wanted one. Agencies are trying to make clients understand that they should put the same energy and money as in any other campaign and the video will become viral only if it's good enough and loved enough by its audience. They are also saying that you cannot know for sure that your video will be a viral until it's out there and you see how people respond to it. What do you think about virals?
I think you have to look in the overall marketing plan and if the client says "let's have a viral!" you have to ask him what does he want to achieve with it, what is the business issue he is trying to address. Or what is the marketing issue. "Do we want to just drive awareness?" or "Do we want to overcome a negative issue about the brand?", etc. I think you , as an agency, you have to take a step back and look at the problem you need to address and see what is the right channel to convey that message, where are the consumers you need to attract, what medium are they consuming, etc.
Having said that, it's not viral until it goes viral. Until then, it's just a piece of content. Of course you can seed it in different places, you can seed it with bloggers, with informers that will kick start the virability of it. You have to make sure that the content is viral friendly: funny, a bit chicky. You can be a little bit looser with virals than with tv, but it still has to be a valuable piece of content. As much thought in the idea, as in the way you produce it.
I think that some clients believe that in a viral you just take your phone out, you film your video and then you upload it. But it's not like that. It needs planning, understanding the medium, to give it a better chance of succeeding. We did a commercial in the States with VW, with a little Darth Vader in it, really nice idea and that was developed for Super Bowl. But we leaked it online before the Super Bowl and in the first week we had 12 million hits. Everybody was sending it. By the time Super Bowl came the effect of it was amplified and it went to have 100 million hits within a month and a half.
But how did you convince the client to be ok with spreading it online before the event? Didn't he think it might create a problem? I know that being part of the Super Bowl is really expensive.
If you got well-made content you can amplify your media budget. The earned media was giving more value to what we were doing and to the paid media, so the client was really happy.