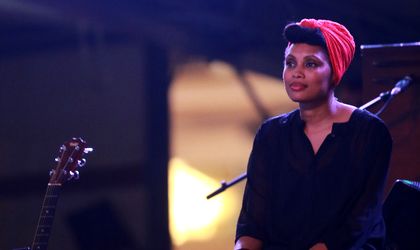 For those living in Timisoara's Victoriei Square, this weekend's mornings are absolutely amazing: you wake up with beautiful jazz sounds from the main scene sound check, you see worldwide known artists laughing and having fun on the stage and you benefit from live music sessions. Needless to say I was one of the recipients of this kind and relaxing jazz treatment, as the title of the article suggests, being taken from one of the best known songs of the great Imany, Don't be so shy.
This Saturday, JazzTM moved also in the parks, jazzing up the passers, the families and even the wedding attenders, due to the fact that most of Timisoara's parks have a good setup for a photo session. Artists like Van Jam, The Twister, Luiza Zan, Petra Acker, A-C Leonte and Yaron Herman have warmed up the public for what was about to happen in Victoriei Square, a explosion of sensitivity and good vibes provided by the two superstars of the evening, Dhafer Youssef and Imany.
Tunisian oud virtuoso Dhafer Youssef is quite familiar with Romanian public (by the way, he will return in Romania for a concert scheduled in October 2016) and managed to connect with those 5,000 persons from the Victoriei Square quite impressing. His combination between exotic, Arabic sounds, mystical elegance and world music releases a truly beautiful jazz arrangement. Of course, his oud, this unusual instrument from the lute's family, gives an unique sound, something that takes you to the Arabic stories and legends.
Read also: JazzTM: The young jazz music prodigy Jacob Collier launches his first album in Timisoara
All of Imany's albums are lyrically and musically melancholic, but none of them prepare you for the energy and the emotions you get while you are listening to her live. The French artist offers a mixture of acoustic folk, heartfelt soul, and passionate blues, everything wrapped up in a kind invitation to sing with her, clap your hands and dance. And so did we at her concert which lasted for two hours, although it was scheduled for less. We weren't shy, we were good, bad and crazy and there were tears – but tears of happiness. And most important, as the artist underlined on the stage, "you need to take care of the people you love while you can". Also, judging by the ecstatic applause that led to a longer concert, the majority of the audience were of Imany's persuasion here.
This text was written during Dee Dee Bridgewater's sound check. Life's great in south-western Romania, even if we are literally melting. 
Photos courtesy of Flavius Neamciuc, Petru Cojocaru and Dragos Jivan
Oana Vasiliu