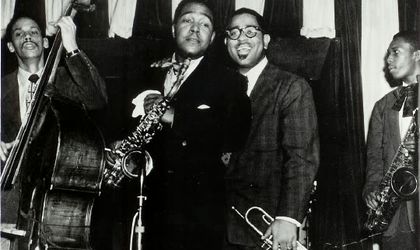 Jazz Syndicate Live Session will hold a tribute concert for jazz players Charlie Parker and Dizzy Gillespie on March 31, starting at 8pm at the Sala Radio in Bucharest, according to a press release from the Jazz Syndicate. The concern has been rescheduled from last fall, and the tickets bought for the event in 2015 are still valid.
An All Star Band formed out of five musicians will perform throughout the night, with Catalin Milea on the saxophone, Sebastian Burneci on the trumpet, Sorin Zlat on the piano, Adrian Flautistu on the bass and Iulian Nicolau on the drums.
Charles Parker, known as "Yardbird" or simply "Bird", was an American saxophone player and jazz composer. He was an important figure in the development of the Be-Bop style, and his nickname inspired the titles of many of his songs, such as "Yardbird Suite", "Ornithology", "Bird Gets The Worm" or "Bird of Paradise".
John Birks "Dizzy" Gillespie was an American trumpet player, band leader, composer and occasional vocalist, considered to be one of the greatest trumpet players of all times, according to the Jazz Syndicate press release. His singing and personal styles were "essential in popularizing the Be-Bop style," says the press release.
Andreea Tint