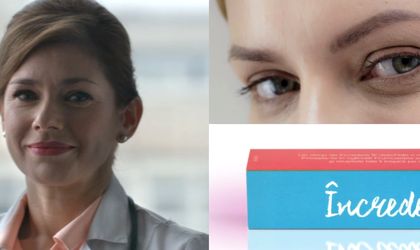 Ad agency Jazz has helped cosmetics maker Avon to promote its new beauty line, as part of a global initiative of the company that was launched last year.
Romanita Oprea
The campaign team started from one simple question: "Why are the Romanian women arranging themselves?" and it found the answers around it, in all the women that in the morning, before going out of the house, are "charging" themselves in front of the mirror with "trust", "happiness", "courage". Their guns are the make-up and caring products. Every day, women proudly wear a full line of feelings, attitudes, gestures, that make them more beautiful and stronger.
The video was realized by Andreea Paduraru, starring in the main roles the Avon representatives, as a recognition of all the Romanian women's beauty, that interior beauty wonderfully "put on scene" by the Avon products.
"Six months have passed since we've put all the Avon story under the umbrella <>. In this stage we've transformed the products in women's "guns". We have associated the launches the star of the first trimester, in an unique formula, the power of changing women's life every day, by "dressing" our products in packaging that show the feelings offered by those products: Courage, Happiness, Trust," said Denisa Mihai PR & Advertising manager at Avon for Romania and Moldova.
"When you go out of the house wearing make-up (no matter how discreet is it) and with a touch of perfume, it's like you have more trust, courage, attitude. The inner beauty line is already there on each woman's face, but sometimes she forgets. We wanted to remind the Romanian women about those products, every time they look into the mirror and put their make-up on. It's a kind reminder of the power they already have, the one of changing the world through beauty," added Alina Varlanuta, senior copywriter at Jazz.
The campaign "Change the world through beauty" is part of a big global initiative that bears the name "Beauty For a Purpose". The first step was the campaign "Beauty declaration".
By the means of beauty, have changed the world:
The Avon team:
Denisa Mihai – PR & Advertising Manager Romania and Moldova
Laurentiu Mitrea- Digital Media Specialist
Cristiana Miu- Digital Content Editor
Stela Toderascu – Commercial Marketing Manager Avon Romania & Moldova
The Jazz team:
Valentin Suciu – Creative Partner
Andreea Ghenoiu – Group Creative Director
Raluca Matei – Senior Art Director
Alina Varlanuta – Senior Copywriter
Irina Pencea – Managing Partner
Loredana Banica – Client Service Director
Georgiana Neacsu – Account Manager
Carmen Raduta – Account Executive