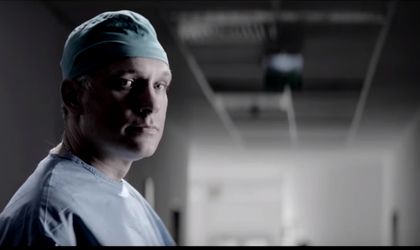 Ad agency Jazz has rolled out a new campaign for private medical services provider MedLife, which focuses on the principles of Hippocrates' Vow.
The new ad initiative continues the pledge made by the company two years ago to "make Romania better".
"The idea came from the strategy. The creation not only approved it, but embraced it dearly. We felt the emotion, the strength of the idea. Hippocrates' Vow, as simple as it is, but also very profound, clear and sincere. Yes, it is a vow all doctors in the world take, but MedLife reminds Romanians about it through its doctors. It reminds Romanians why doctors and medicine deserve our trust and respect," said Andreea Ghenoiu, the group creative director of Jazz agency.
"Before being a health company, MedLife is a team of doctors who took an oath to do their job for the good of the people. The campaign is a manifesto we want to remind Romanians that, in Romania, quality medicine is being made and to increase their trust in our doctors. At MedLife, people's health is in the center of our preoccupations," added Simona Iliescu, marketing director of MedLife.
For more truthfulness, the doctors in the ad are real MedLife physicians.
The visual dramatization of the vow: the faces, the states of mind and the MedLife physicians' actions show that they are trustworthy, hopeful and professionals, but also humans, with intense emotions and feelings.
The campaign credits go to the following teams:
MedLife: Simona Iliescu – Marketing Manager, Oana Safta – Marketing Specialist, Diana Grosu – Marketing Specialist, Mihai and Nicolae Marcu – founders MedLife.
Jazz: Valentin Suciu – Creative Partner, Irina Pencea – Managing Partner & Strategy, Andreea Ghenoiu – Group Creative Director, Raluca Matei – Senior Art Director, Georgiana Rotaru – Account Manager, Marina Perta – Account Executive.
Romanita Oprea