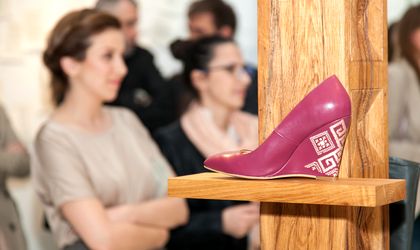 Romanian brand Iutta, leather shoes, bags and accessories producer, launched on Thursday, April 2, at Galateca, its first collection of shoes with traditional motifs, event attended by over 250 public figures, bloggers and fashion designers in the local industry. The contemporary art gallery was transformed for one evening in a silver forest through an organic set-up that has supported the new shoe line named "Conduri cu dor". After the event, the creations will remain displayed at Galateca, as part of the "Maiastra Design" project.
The event brought together those who love Romanian stuff, in an organic setting resulting from the fusion of these concepts and brought to life with the help of the NO NO NO workshop. The contemporary installation of suspended books and the lyrics that have animated the gallery's walls have transposed those attending the event in a story full of emotion. The theme of the evening was shaped also by the urging made to the guests to lay down their thoughts and longings on the paper using a typewriter.
In harmony with the setting, the first Iutta shoe collection is defined by colours, shapes and textures inspired by nature. This season's line is a dance of forms and embroidery, with design variations that bring into the contemporaneous ancestral symbols. From high heels to platform shoes and boots, the new line introduces the elegancy of the embroidered motifs in the accessories of a daily outfit.
"The first Iutta shoe line was born as a natural answer to the need to continue bringing back the authentic into the contemporaneous and reinterpreting tradition under new forms. "Condurii cu dor" carry on the story of the "Dor de romanesc" line and introduce the already loved symbols on an accessory that we hope it will be worn with pleasure every day," stated in a release Nicoleta Chirica, Iutta founder and designer.
Iutta's new shoe collection is now available in the online catalogue: www.iutta.ro/conduri-cu-dor.
Staff