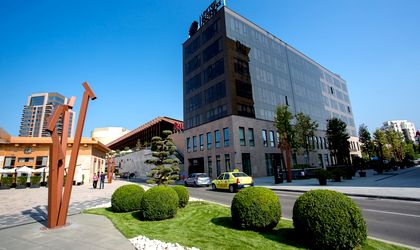 Palas Iasi will expand to a 62,000 sqm GLA through the addition of United Business Center (UBC) 6, a 9,000 sqm Class A office building, shows a statement by the developer Iulius Group.
The building will be situated next to UBC 3 and will have direct access to Palas Mall, its food court and the complex underground parking. According to the developer, it will facilitate the creation of about 1,000 jobs.
Construction works follow "green buildings" guidelines and are projected to complete in 2016. The building has a 100 percent occupancy rate.
This fall Iulius Group plans to start work on a second multifunctional complex in close proximity to Iulius Mall Timisoara, an investment estimated at over EUR 220 million. Openville will include, in addition to the functions of retail, park and entertainment, seven Class A office buildings with a total area of ​​over 131,000 sqm.
Iulius Group owns a retail network comprising of four shopping malls (Iulius Mall Iasi, Iulius Mall Timisoara, Iulius Mall Cluj, Iulius Mall Suceava) and Palas Iasi multifunctional urban complex. In the office segment, the company owns over 55,000 square meters of Class A office spaces in Iasi and Cluj-Napoca.
Within the Palas Iasi complex, the company has four Class A office buildings, branded United Business Center, with a total 38,000 sqm GLA and over 3,000 people working there. The group currently has UBC 5 (15,000 sqm GLA) and UBC 6 (9,000 sqm GLA) projects under development.
The company's office portfolio also includes two Class A buildings inCluj-Napoca, close to the Iulius Mall: Iulius Business Center (7,500 sqm) and United Business Center Tower (10,000 sqm), both 100 percent leased.
Natalia Martian