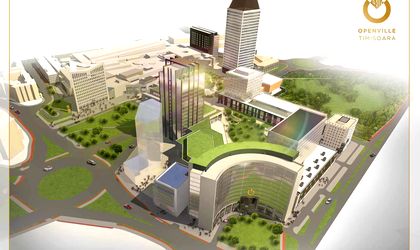 Iulius Group announced the start of construction works for the Openville mixed-use project, in the immediate vicinity of Iulius Mall Timisoara. Over EUR 220 million will be invested in the urban ensemble, this being the largest infusion of private capital in the real estate industry in western Romania.
With a design based on the "lifestyle centre" concept, Openville will bring together office, retail, park and entertainment functions. This is the second mixed-use project in the company portfolio alongside Palas Iasi.
The construction works will be carried out in marked perimeters and will be phased. The first works will focus on the office component, namely the United Business Centre 2 (UBC 2) class A office building, located in the area adjacent to Iulius Mall, towards the Antenei Boulevard. The building will span on 18,000 sqm and on 11 floors, following "green building" principles in order to become LEED certified.
For the UBC 2 building, the company already signed partnerships with Ness Software Engineering Services, a premier provider of outsourced engineering services, and with Regina Maria healthcare provider network, which will open here its first clinic in Timisoara. The building is projected to be completed by the end of 2016. By the same time, the company will also open a total of 33,000 sqm of office spaces.
The first development stage of the Openville ensemble will be completed during the last quarter of 2017 and will comprise 80,000 sqm class A office spaces, retail spaces and the park. The second development stage includes the development of office spaces up to a total of 131,000 sqm, depending on the market demands.
Openville will have a total built area of 594,000 sqm, and Iulius Mall Timisoara will be an integral part of the project. The largest ratio goes out to the office component of the project, developed under the United Business Centre brand, which will comprise 7 buildings with a gross leasable area of over 131,000 sqm, including the tallest building in Romania (155 m and 27 floors). The buildings will be able to accommodate approximately 13,500 employees.
Openville will also create the largest suspended park in Romania, a green space spanning over 55,000 sqm. The park will be a genuine relaxation oasis for the entire family, fitted with a skating rink, a carrousel, artesian fountains, event plazas, over 1,000 mature trees, 20,000 shrubs and special turf.
In terms of retail, Openville will complete the attractions offered by Iulius Mall Timisoara with a new mix of brands, over 100 stores, restaurants and themed cafes, 15 cinema halls, a fresh market area, the largest playground and other leisure options. In addition to these, the project will also include four halls for special events and corporate events, with a total capacity of 2,500 people.
Natalia Martian