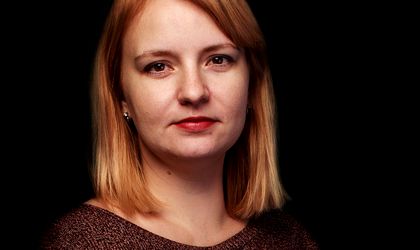 At this end of 2015, SeniorHyper became Lowe Profero Bucharest after the affiliation to the international network with 17 years of experience in offering digital integrated solutions and with a global presence in Europe, USA and the Asia-Pacific region. Business Review talked with Ana-Maria Ghiurca, Client Service Director of Lowe Profero Bucharest, about the agency's next steps.
What will the main changes be in the agency following the affiliation?
We decided to affiliate SeniorHyper to a dynamic, entrepreneurial and creative international network to complete our competences and digital expertise, in order to elevate the standards of our services and to develop our business locally. We shall undergo various network trainings aimed to align the product and the processes to the international standard of Lowe Profero thus absorbing and translating effectively into the work we do every day, from concepts to creative technologies, the international credo: "Find, inspire and connect people in ways others cannot."
We shall extend our services: from digital strategy, creative technology, social media strategy, content strategy and creation, design and interactive ideas to performance media and search engine marketing. We create ideas that people can naturally relate to in order to enhance the brand experience across all digital platforms, to ensure people spend more money, time and social currency on our client's business, in a way that's relevant to them.
Are there any rules or suggestions that Lowe Profero gave you?
Lowe Profero network is an entrepreneurial and collaborative environment where ideas & initiative thrive. Apart from a minimal set of rules that govern any business it's up to the power of the inspired individuals to coagulate teams around a powerful idea and a relevant product brought to market in a way that finally delivers tangible results for our clients. In brief, it's all about the insight and the strategy that leads to world class creative, media and technology solutions smartly implemented across all paid, owned and earned platforms of our clients.
What is your main target for the next 2 years in terms of clients, people in the team, etc.?
We shall focus on refining and expanding the digital expertise level of our team, on complementing our service portfolio with performance media and SEO around our client's digital properties that are developed and managed by us with a focus on tangible business results. The main focus is quality before quantity in our business. Naturally, as our market is continuously developing, we have set some realistic client acquisition targets over the next 3 years. At the same time we believe that good work pays off not only in terms of business numbers but also in reputation. We seek to do great work and get market recognition through rewards at relevant festivals, locally and internationally. Lowe Profero's awards record is an inspiration to us and we shall work together to put our agency on a similar path towards success.
How will you approach the Romanian market differently from what you did while you were SeniorHyper?
Building on the successful record of our agency to date and together with our partners at Lowe Profero we aim to take the boldness of our agency's approach to the next level in terms of ideas, product, results, client acquisition, and recognition. We will work closely with the network's experts and complementary specialists from sister-agencies in the Lowe Group we are part of in order to deliver integrated communication solution to benefit our current partners – Orange, ING Bank, Wrigley, Caroli Foods, as well as future clients.
How did the clients receive the change?
The clients we work for today have been with us long enough for our relationships to evolve into partnerships. Our clients and the work we did for them testify our agency successful record of work. It is this record that was a deciding factor for Lowe Profero to have an affiliate office with us in Romania, of all countries of CEE. The clients value the team we put forward and the results we deliver, above all. As long as the same team will put out a better, bolder product & service with the same dedication to detail and care for each client objective, this transformation is naturally welcomed by our clients.
What will Profero bring new in terms of knowledge and access to know-how?
We shall implement in Romania some of Lowe Profero's digital tools for different areas of expertise – performance, social or research as deemed relevant for our market. We'll enjoy talent and expertise sharing, trainings and workshops, we'll share ideas & concepts on certain international projects, and we'll work together in preparing festival entries, also.
Will the Romanian team go and exchange experience with some other agencies from the Profero network worldwide?
Yes, we will exchange work experiences with other markets across the network.
The agency suffered many changes during the last 3 years. How do you believe that the market received that?
Our group has a focus on digital for nearly a decade, we've been pioneering this industry locally. We always aimed to be leading in this field in size, product, talent or awards. On some levels we have succeeded. Other areas we have constantly addressed with solutions in an attempt to better our performance.
We do believe that "Change is good". And I can hardly think of anything more true to the nature of the digital industry.
Also internationally, the digital industry, as well as the advertising industry as a whole, is under transformation: mergers, acquisitions, new digital agency networks being launched, integration of services, etc.
At our end, we change, we adapt, we fine tune, and we deliver better results for the benefit of our clients, our team and our shareholders and are always ready for the new opportunity out there.
Bottom line, our digital capabilities & results had been constantly evolving since we started our digital journey back in 2007, each step of the way, each partner we have had with us along this journey did nothing but contribute to where we are today and will be tomorrow.
Romanita Oprea