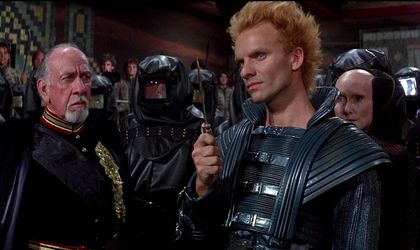 Now on its second run, six international feature films, eight international shorts and seven Romanian shorts will go head to head at Dracula Film Festival which will be held October 1-5. Gary Shore's first feature movie, Dracula Untold, which opens in Romania on October 3, will be screened at the grand opening.
Also, 16 anniversary titles such as David Linch's Dune (in picture), Frank Pavich's documentary Jodorowsky's Dune, Julian Richards's feature film The Last Horror Movie, R. Alfred Hitchcock's restored movie Rear Window, R. Jack Arnold's Creature from the Black Lagoon and many others will be also screened during the festival.
Welsh Julian Richards is the president of the Dracula Film Festival jury along with Toni Benages Gallard and Aurelian Nica. The second edition of Dracula Film: Horror and Fantasy Festival will take place in Brasov between October 1-5 in several locations such as Sica Alexandrescu Theater, Patria Cinema and Rockstadt Club. The full program of the event will be available here.
Oana Vasiliu