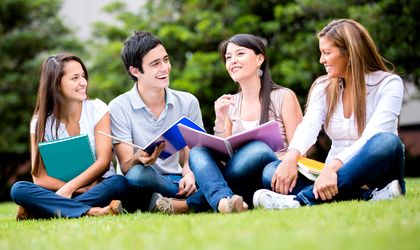 This weekend, the World Education Fair will take place in Bucharest, where representatives from 90 institutions from across the world will be present to discuss study abroad possibilities for Romanians, according to a press release from IntegralEdu. Generally, Romanian students who go to university abroad are mainly interested in IT, business management, media and communications, hotel management and engineering, their data show.
As far as where the students choose to go, the United Kingdom's Coventry, Greenwich and Lancaster University's, the Dutch Hague University of Applied Sciences and the Danish VIA University make up the top for their choices, according to IntegralEdu statistics. "One in three students who come to us already set on one university end up radically changing their options after talking to our consultants, even so much as changing their field of study," said Ana Maria Papp, manager of the university department at IntegralEdu.
At the moment there are over 45,000 Romanian students studying abroad, at different educational levels, high schools or universities, and their numbers increase by approximately 20 percent each year. "For a young Romanian high school graduate, studying abroad has gone out of the realm of the inaccessible for several years now. Meaning that western universities are no longer dedicated only for the elites or those with considerable financial possibilities. Basically, any young person who wants to take this step and even who got a lower grade at the Baccalaureate, can study abroad," said Papp, further adding that getting the application file ready at least a year before starting studies is advisable.
In terms of the financial implications of such a decision, "despite the general perception, the costs of studying abroad have become very accessible in recent years, due to the scholarship and loan systems in different countries. Larger costs, which aren't taken into account sometimes, are those covering the daily livelihoods of students. Here we talk about an average between EUR 8,000 and 12,000 a year, which includes rent, plane tickets, health insurance and pocket money, for an EU country," explained Papp.
In England, for example, tuition fees can go up to GBP 9,000, while in Scotland to GBP 1,820, and both can be covered through state-given loans, according to the IntegralEdu press. In the Netherlands, tuition fees go up to EUR 1,984 per year, and can also be covered through a loan.
A novelty for 2016 is the fact that Romanian students can now receive loans from the British government and the Business Innovation Department to finance their post-graduate studies or MBA, with the maximum value of such a loan being of GBP 10,000, as detailed in the IntegralEdu press release.
Andreea Tint