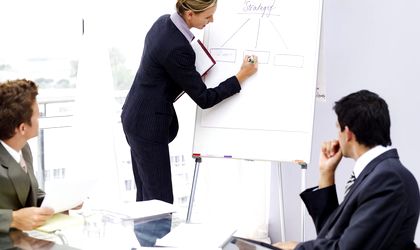 Google Romania, Microsoft Romania, Mecedes-Benz Romania, BMV Group and Deloitte Romania are the top four most wanted employers, while RCS/RDS, Kaufland, Avon Cosmetics Romania, Lidl and Orange Romania are the most known employers on the local labor market, according to the "Most Loved Employers" study conducted by Inspire Group and Mercury Research on a group of 170 companies from 16 industries.
When it comes to the industries that Romanians are most interested in, 73 percent of the active population of Romania wants to work in an IT company, which has become the most attractive industry, increasing from 2013, according to Ioan Simu, general manager at Mercury Research. Following that, "the second most attractive industry is the auto one, which mostly refers to vehicle sales", with companies such as Mercedes-Benz Romania and BMV Group in the top 5, according to the "Most Loved Employers" study.
At the opposite end, the agricultural, constructions and insurance industries are the least attractive to the labor force, having gone from over twenty percent to 19 percent, 15 percent and 14 percent, respectively, according to the study.
As for what prospective employees look for when deciding on a potential employer, wages are the most important, followed by workplace safety and respecting contract provisions. This latter is a more recent development, but following a qualitative study conducted in 2012, "we discovered that what employees were complaining about was employers who didn't respect contracts," said Simu.
The focus on wages has gone up from 2013 as well, reaching 13.4 percent, almost twice as much as the interest for workplace safety (8.2 percent), according to the "Most Loved Employers" study. As such, employees say that "a 37 percent wage increase would determine them to change workplaces, while important benefits like performance bonuses, the 13th salary, meal tickets, included lunches or flexible work hours, can influence their decision to accept a job or remain in a company", reports the study.
Significant changes between 2013 and 2015 regarding what employees were looking for appeared regarding promotion perspectives, which fell from 6.6 percent in 2013 to 5.9 percent in 2015. Interest for a good relationship with management also decreased from 5.3 percent to 4.8 percent, the company's success on the market went from 4.3 percent to 3.6 percent and international mobility went from 3.9 percent to 2.5 percent. Employees were least interested in "products that make a difference" and companies' involvement in CSR programs, found the study.
When it comes to the means employed by candidates for jobs to get in touch with their potential employer or find information about them, online communication is the preferred channel, with 77 percent opting for job sites and 63 percent for the company's site, as detailed by Simu. Furthermore, 28 percent cited social networks as the preferred means for communication and information with potential employers, an increase of 8 percent from 2013. This latter increase coincides with results from a recent EY study according to which social media ranks higher in Romanian companies' communication scheme.
Andreea Tint