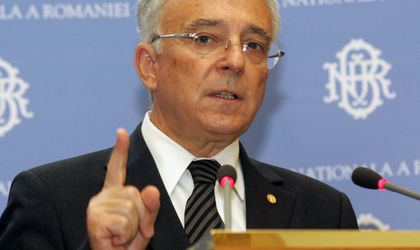 The Fiscal Code is inapplicable because of the impact tax cuts would have on the gross domestic product (GDP), said National Bank (BNR) governor Mugur Isarescu, according to Mediafax.
"There is negotiating field, so I think that the reference to review the Fiscal Code by the Parliament is wise. It is the right of the President to do so. The important thing is that the state institutions react, even if it was approved by 100 percent. The premier's decision to hold an extraordinary session is a wise measure, because in the end the Parliament decides, not BNR or the Fiscal Council," said Isarescu.
He argued that the impact on GDP would be of 2.3 percent (over RON 17 billion) if the new Fiscal Code would be approved in its current form, without taking into account the increase in public sector wage, which would add 1.3 percent to the deficit.
"The Fiscal Code has no problem, but the package of tax cuts and is, economically and financially speaking, impractical, because you cannot put six such measures into effect. It's not just about wanting or not wanting the VAT reduction from 24 to 19 percent, that alone would mean a deficit of RON 8.9 billion. This fiscal code lacks measure. Driving a market economy means having measure," Isarescu added.
According to the BNR official, Romania does not have the necessary capacity to absorb an economic growth of 6-8 percent.
"The impact is major. We cannot apply measures of this size without negotiating with our partners. We have 4 percent growth, where do we want to go to 6-8 percent? Do our engines run at 8 percent? We have 4 percent growth, we are at cruising speed, we should be on autopilot, but we draw the stick brutally to 2.3 percent of GDP, because 2.3 seems small and our economists say nothing. When you increase you do not need higher deficits. You need to keep the resources to spend when the economy declines," he pointed.
He criticized the authorities' decision to not consult with members of the Fiscal Council, who had announced that the new Fiscal Code is inapplicable.
"After Greece introduced a Fiscal Council, almost European countries have such a council, which is a watchdog of the fiscal program. For me it's alarming that the Fiscal Code was discussed for several months and no one consulted the Council's website to see what they have to say, even if it's only an advisory opinion," said Mugur Isarescu.
He argued that the government should not repeat the mistakes made in 2005 and 2008, when useless pressure was put on the State budget.
"Fiscal policy should be countercyclical, this issue gives us the license. In essence, the economy has natural cycles. The introduction of the flat tax in 2005 was a cyclical measure, especially since they opted for 16 percent and not 19 percent, which has resulted in a structural deficit, covered by capital inflows. Another pro-cyclical policy was that of 2008, when they increased salaries and pensions. We must not relapse a third time in 2016," the BNR governor said.
A deviation by 0.1 to 0.2 percent of forecasted budget deficit would have dire effects over several years, he warned.
"It somehow got into our heads that we cannot have growth without deficit. On the long run we have other issues in the budget, because we have low investment. Therefore we have a surplus or a small deficit, because we still have large deficits in all social expenditure budgets and there it is that we need to focus, on political cycle grounds, because of the election. A deviation 0.1-0.2 percent of the budget deficit would be like getting on an airplane and, instead of going to Brussels, you get to Stockholm and on longer distances you may reach the North Pole," said Isarescu.
He went on to conclude that financing costs are also a burden on the GDP and that Romania should develop a better relationship with its creditors.
"We have reached a paradox: we want bigger deficits but we bristle at lenders who give us money to finance the deficit. Financing cost is essential, it can easily take not 0.1 or 0.2, but 2 to 3 percent of GDP if you're not on good terms with creditors. But why shouldn't we be in a good relationship with creditors? We've paid our dues. Are we feeling exploited? Because of these cantankerous positions Romania does not have an A rating, but BBB," warned the BNR representative.
Natalia Martian