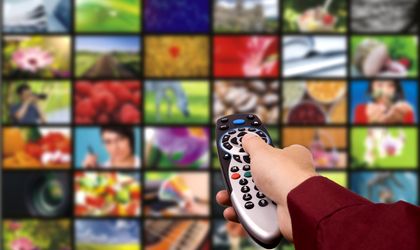 The quality, dissemination and suitability of content can make or break the business of content providers and distributors. The recent collapse of several TV stations in Romania suggests business models need to change. Meanwhile, cable operators are working either to produce their own content, or to make it available through as many platforms as possible.
 Otilia Haraga
"The Romanian media is going through a difficult time for various reasons. For one thing, the economic crisis has led all companies to negotiate advertising rates aggressively, which has sometimes reduced the rates to less than half the pre-crisis levels. Also, there is a lack of differentiation between some companies, on a market which is already very fragmented, and this is clearly impacting market share, ratings and collected revenues for some players," Bogdan Belciu, partner in management consulting at PwC Romania, tells BR.
This summer, Pro TV Group made a daring move, announcing its exit from the must-carry list, which means cable providers now have to pay to broadcast Pro TV channels to subscribers. This may translate into additional costs for subscribers who want the Pro TV Group channels in their package.
"Such a decision has a direct impact on the cost per user of any service. It is every operator's decision whether to increase the price or lower their margin. Each decision has its related risks," Serban Belenes, general manager of satellite operator Freesat Romania, tells BR.
When asked about the move, Valentin Popoviciu, business development manager at RCS&RDS, told BR:  "Pro TV is currently in the basic package offered to all clients, and they do not have to pay extra for it. There are ongoing discussions about that but we still do not have a final answer."
So far, no other major TV content provider has announced that it will exit the must-carry list, although Dan Voiculescu, founder of Intact media group announced at the time that he was pondering such a move.
But for a content provider to make this business move successfully, it needs enough pull on the market.
"The reality is that prices in Romania for pay-TV are the lowest in Europe and this makes it very difficult for both distributors and content producers to have a profitable business. If other TV stations want to do the same as Pro TV, they should look carefully at their importance in the hearts and minds of viewers. Giving up must-carry status could lead to the loss of significant distribution," Mathias Hanel, chief commercial officer for the residential segment at Romtelecom, tells BR. Hanel adds that prices on the market are not correlated with either the value the customer gets or the operator's costs. "As you can see, content providers are asking for more money, while operators are heavily competing on price. These conditions could make the whole business unsustainable," he warns. But this opinion is not shared by pundits in the content industry, such as Horia Cazan, Chief Technical Officer of the public television service TVR, who says content distributors are making much more money than content producers.
"The content creator does not get even 10 percent of the final sale price. (…) Everybody lives off the efforts of the small, rice-fed, Chinese worker," he complained.
However, content providers have also lost out by compromising on quality. "Nearly all publishers have neglected the main value they were producing – quality content – and have focused on maximizing revenues from advertising. It is obvious that, in order to produce quality content, one needs significant investments, especially in human resources. Eventually, publishers who relied on content failed to take into account that they could obtain an audience much more easily and cheaply, but instead played the traditional bread and circus card that had always worked. Advertising revenue proved insufficient to make the business of those publishers sustainable," Alin Alecu, managing director of Goldbach Media Romania tells BR.
So, is content still king, as Bill Gates said in 1996? How should the quality content card be played? And, equally importantly, is it not too late? Vicentiu Neacsu, group account director at Optimedia, seems to think it is.
"For now, entertainment is king, at least in these parts. Paid content is rather marginal. Content is already a commodity and publishers will find it hard to convince the target-public to pay," he says. However, Alecu believes that in the future, quality content must be paid for, or it will disappear.
"What is important is that the owner of the quality content must make the most of all distribution channels at his or her disposal – online, offline, or a combination of the two. This is why I believe that pay-per-view models will be used more and more often, even though the audience, which brings advertising, will shrink," he says.
In this equation, the viewer's inclination to buy content is crucial. "The ones who will pay will probably be those who are already bored and irritated that the more or less free-of-charge media no longer brings them the necessary information or not enough for their development needs," Vicentiu Neacsu, group account director at Optimedia, tells BR.
Alecu does not believe consumers' education should play an important role in the buying decision, but whether the content meets the need. "I am convinced that, for instance, to obtain accurate and relevant information about a World Soccer Championship, fans will pay for content, of course if it is not available free of charge via other distribution channels. So, we always have supply and demand. While the content has a price tag, the demand will determine the closing of the deal or not," he says.
Content changes the cable industry
Meanwhile, cable operators, as content distributors, may be driven to alter their business model, either by becoming content providers themselves or by focusing on making content available on as many platforms as possible.
"The phenomenon appeared on the TV market in Romania several years ago and mainly involves sports, music and news content," Belenes told BR. "To produce significant differentiation, the content must satisfy at least two sine qua non conditions: to be exclusive and appeal to the audience a great deal," he said.
Cable operators like Romtelecom and RCS&RDS are already promoting their own TV content – Romtelecom through sports channel Dolce Sport and RCS&RDS via news station Digi24 and lifestyle channels such as Digi Life and Digi World.
The company is also planning to launch an online content video platform, and a further announcement on this topic should be made soon.
Romtelecom, which distributes content via satellite, cable and IPTV, is present on the over-the-top market with its dolcetv.ro and Dolce Mobile TV services, powered by Cosmote, which are available to the customers of both companies, Hanel tells BR.
"Service quality and reliability – including the number of HD channels and channels available anytime on any screen – are becoming significant differentiators. Customer service, innovation and ability to get multi-screen HD TV, mobile and mobile data through one subscription are also becoming important decision-making factors when changing one's pay-TV provider," Julien Ducarroz, chief commercial officer at Orange Romania, tells BR.
Orange customers can watch TV and video-on-demand with the Orange TV Go application for Android and iOS phones and tablets.
The operator does not have any plans to enter the content business, but intends to diversify the means by which it brings the content to viewers.
"The Romanian TV market is one of the most aggressive and competitive in Europe. In order to be able to create its own TV channels, a company must invest tens of millions of euros. Besides, it has to be sure it can sustain high-quality content on the long run," comments Ducarroz. He adds that while most Romanians watch linear TV content on their TV sets at home, online TV viewing is becoming more and more popular.
"On the medium term, as traditional TV viewers continue to form the majority of consumers, online TV viewing will not have a big impact on the cable business. On the long run, we can expect some further customer segmentation, as there are already consumers who have given up their TV set at home and only watch content online, and also viewers who combine the two.
This shift in consumer behavior creates more opportunities to monetize the content than traditional pay-TV, as well as unbelievable opportunities for targeted advertising," says Ducarroz.
otilia.haraga@business-review.ro