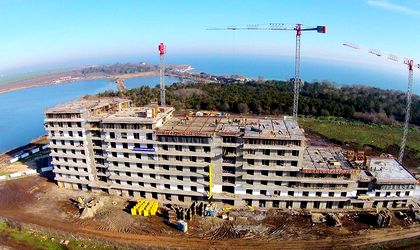 Investments in the Blaxy Premium Resort & Hotel project, developed by a Turkish businessman in 23 August, near the Black Sea resort Olimp, have reached EUR9 million and the first stage of the project, of 540 apartments, is 75 percent completed.
"Construction started in September and presently we are working on three stages, meaning three buildings, totaling 540 studio type apartments. In total there are 7 buildings, which we will construct in two stages. This year we started with 4 blocks but the most far-along are the first three. (…) Investments so far total EUR 8-9 million, including the land, which was supported by our own funds", says Elena Klaici, Blaxy administrator.
The projects is developped on a 35,000 square meter terrain, with an attached 25,000 sq m parking lot. Blaxy Premium Resort will be the first "temporary property" type project in Romania, where owners will be able to spend their vacations in a summer homer for their entire lives. They can use the homes for their own purposes for one week every year, with the possibility to rent it out, sell it or leave it as inheritance.
Blaxy resort will be opened only for its members which can buy houses for one or more intervals, 36 weeks per year. The other months will be reserved for improvements. In July 2015 the first three buildings should be delivered, including 8 swimming pools.
"So far we have sold over 1,000 holiday packages, and at the moment we are focusing on summer holidays, namely July-August. For out-of-season packages we are looking for partners overseas, in order to attract clients from Northern Europe and other areas. Our clients so far bought several weeks and showed interest in out-of-season intervals. Most of the buyers have families which they want to send to the seaside during the summer. We also have potential investors among the clients who see an opportunity in the resort. They have acquired 20 percent of the holidays", Klaici explained.
The longest interval acquired so far is 8 weeks, meaning July-August, with an investor buying an entire floor during that period. The cheapest packages costs EUR 1,900 and the most expensive EUR 6,750.