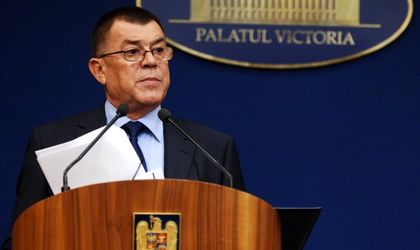 The plane crash scandal fallout continues, as the head of the Ministry of Internal Affairs quit his position on thursday. The news was confirmed by deputy minister Liviu Dragnea.
Later in the day, prime-minister Victor Ponta confirmed that deputy ministery Gabriel Oprea will serve as interim minister.
"I spoke about this with the president and I proposed that deputy minister Gabriel Oprea should take over the ministry. I also discussed the matter with USL co-president, Crin Antonescu, and most likely around February 1 we will have a new proposal for the position of Interior minister", Ponta said.
A member of the National Liberal Party (PNL), he was a member of the Romanian Chamber of Deputies for Maramureş County from 2000 to 2004, and sat in the Romanian Senate from 2004 to 2008, representing the same county. He returned to the Chamber in 2010, representing Bucharest, and started a new term in 2012, sitting for Ilfov County.
In the Călin Popescu-Tăriceanu cabinet, he was Minister Delegate for the General Secretariat of the Government from 2006 to 2007.
In the Victor Ponta cabinet, he was Minister Delegate for Administration between August and December 2012, when he was promoted to Interior Minister.
Radu Stroe's resignation follows a string of dismissals on Wednesday. Catalin Chiper, state secretary within the Ministry of Internal Affairs, Aleodor Francu, the general director of the Romanian Air Traffic Services Administration (ROMATSA) and Ion Burlui,  head of the General Inspectorate for Emergency Situations (IGSU), all resigned as a result of the press scandal regarding a plane accident that occured on Monday.
The BN2 aircraft, which was carrying seven passengers, force-landed last Monday in an unpopulated area in the Apuseni Mountains, western Romania, due to unfavorable weather conditions, according to preliminary data. Pilot Adrian Iovan was found dead and another passenger, medical student Aurelia Ion, died on the way to hospital.
Radu Stroe argued to the press on Thursday that he wishes to resign as a matter of honor, in the spirit of defending IGSU firemen, which for the past three days have been wrongly accused, although they save hundreds of lives.