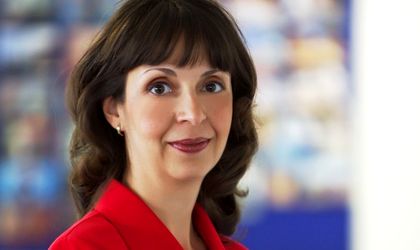 Set up in November 2010 following a multi-million USD investment, the Intel Romania Software Design Center has reached a headcount of 400 people. Monica Ene-Pietrosanu, country manager, who drives the Intel software agenda in Romania, tells BR what the company is looking for in a candidate, what type of projects are under way and what the teams from Wind River and Telmap, the two companies taken over by Intel in Romania, are working on.
Otilia Haraga
What is the current staff situation at Intel in Romania?
In total, Intel has approximately 400 employees in Romania, including the local Wind River and Telmap subsidiaries. Approximately 100 people work in the software research and development center alone. We started with 16 people in November 2010 and we are now hiring senior developers and interns. At the moment, approximately 20 percent of our employees are students.
The newest team in the Intel R&D center is the Yocto team, which is developing a set of tools for the creation of a distribution of Linux embedded. There is also the team of programmers working on developer tools.
We are already in discussions over several new projects. Some of them are long term, with the research effort addressing the way technology will look in 2018 or 2020. Of course, these projects are confidential and are done through collaboration between various Intel R&D sites, located in USA, Israel and Europe.
The good news is that Romania is starting to be more and more involved in strategic projects and engineers in the center have proven their technical expertise in various projects. We have at least six or seven teams within the center. I can say that salaries are above the average for the Romanian market.
How long does it take to become a senior at Intel?
What we call senior is the role of principal engineer, which is the first stage in building a career on the technical side, equivalent to that of general manager. The next stage is Intel fellow, which is the equivalent of a vice-president job. To reach the stage of principal engineer, it normally takes ten years at least, though there are engineers who have achieved it in shorter periods. There are intermediary steps they must go through. Also, their relations with other principal engineers or Intel fellows in other locations are very important, because they can learn from them.
How many interns are effectively employed at Intel?
Generally, they come to work on a certain project at Intel for a set time. To be eligible, applicants must have finished classes no earlier than 18 months ago. We have short internships which last for three months during summer, aimed at students in their second or third year, and we also have long internships, which last between six months and one year, which address students in their final year or those doing a master's.
Depending on the length of the internship, they work on certain projects and at the end of the internship some are offered a full time job, depending on what vacancies we have. They do not have to convert full-time on the exact project they worked on. Many of them return to school or go to work for other software companies. We see this as an investment in the local ecosystem.
A small percentage of them will remain at Intel. It depends a great deal on the growth we have at that particular moment. Many of them started their internships last year in December, so the period expires at the end of this year. We will find out, depending on our plans for next year and the number of positions we have open, how many of them can go for a position.
What employment plans do you have through to the end of the year?
We are working on plans for next year right now, since our fiscal year ends in December. We will probably not grow our headcount in a spectacular way, as we have up to ten vacancies. We wish to employ people for our open source technology center which has a large presence, accounting for nearly a third of the Romanian R&D center. This involves development on Android, Tizen and Yocto, which are open systems. We also have open positions on the team that produces developer tools and also the platform technology analysis center team, which deals with the analysis and optimization of the performance of Intel platforms.
As is the case with any R&D center, the principal initial investment is in the building, laboratories and computing equipment, but in time this continues with investments in salaries. As we grow our employee base, investments will also increase. The macro-economic situation is not very favorable, and many companies are downsizing their operations globally. Intel will continue to invest in the Romanian economy.
How is the recruitment process going, and what are you looking for in a candidate?
The first interviews are with the HR partners who make the selection, and then follow several technical interviews. I think what is important for us is to see how the candidate thinks. They needn't always have the perfect answer. Maybe they don't, but what is important is how they go about finding the solution. I would mention entrepreneurial abilities as important. We want to see what prior projects they have worked on, what their role was and how they will manage in a team. Our teams must have initiative and spirit, as we are expecting innovation.
How were Wind River and Telmap absorbed by Intel? What happened to their R&D teams?
Their teams continue to work on projects they had under way. The reason Intel took over these two companies in Romania was the expertise they had in certain areas, because we wish to expand the pool of solutions we offer clients. They are Intel subsidiaries but have an operating system that is somewhat independent. In Romania, we are collaborating with Telmap and Wind River on academic projects, offering a larger selection of projects where students can get involved. For instance, Telmap is leader on the market of geo-location products while Wind River has expertise in the development of embedded products. In this way, we can come up with a richer range.
At the moment, Telmap, an R&D center based in Bucharest with 100 people, focuses mainly on location-based services. Wind River is based in Galati, and has a team of approximately 200 people on development, testing, support etc. The center in Galati came from an acquisition, after Wind River bought Comsys Galati, after which Intel bought Wind River.
Where do the projects they develop go?
The pool of projects of these two subsidiaries continues to reach the market they had before, and moreover Intel is working with them on developing projects that bring added value to Intel platforms. The projects they develop, like in any multinational, are usually distributed across various geographies.
They are not developed only in Romania but also in collaboration with other countries. Telmap has headquarters only in Israel and Bucharest while Wind River has headquarters all over the world.
CV
Monica Ene-Pietrosanu
appointed country manager of Intel Romania Software Design Center in July 2011
prior to Intel, she spent eight years at Microsoft in Redmond, WA, coordinating different R&D teams in the Windows Operating System Development Division
returned to Romania in 2005 and led the Microsoft Global Technical Support Center in Bucharest, most recently as site manager, for almost five years
graduated from the Faculty of Automatic Control and Computers at the Polytechnic University in Bucharest in 1995
graduated from the Faculty of Mathematics at the University of Bucharest in 1996
awarded a Ph.D. degree in Computer Science at Polytechnic University in Bucharest in 2003