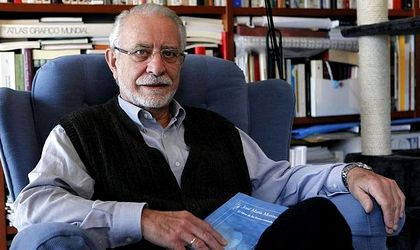 For the first time in Romania for the launch of Valerie Miles' anthology "A thousand forests in an acorn", Spanish writer José María Merino tells BR more about his work, life experience and motifs. He partook in Bookfest on Saturday, May 23, when Cervantes Institute in Bucharest and "Univers" Publishing House organized a round table for the launch of the aforementioned anthology.
By Andreea Marinas
 What were the selection criteria of the excerpts published in the recently launched anthology "A thousand forests in an acorn" by Valerie Miles?
When one writes a lot, because I have already published many books, it is always complicated. I looked for the excerpts that were significant for both my large literary works and for my stories and short stories. These are related to things that interest me in particular, including: the theme of the double, the reality-dream relationship, the motif of metamorphosis, the theme of the unexpected in reality, on how the reality is something doubtful, while literature must be believable in the reality.
Which one of your most popular and awarded books, among which Cumpleaños lejos de casa, Novela de Andrés Choz, La orilla oscura, Días imaginarios, El río del Edén, best defines you as a writer?
It is very difficult to say which of them as each book is a new project and I'm trying not to repeat what I have already written and what, to a certain extent, I have investigated. Because writing a novel or a short stories volume is entering this investigation about what is the fiction world and about our obsessions.
With "Novela of Andres Choz" I discovered the literature within literature. In "La orilla oscura" I deepened a myth that I'm interested in a lot, which I find very Spanish, even if us, the Spaniards, have not heard about it, that is life as a dream.
In "Dias imaginarios" I played with the story and with the short story.
In "El rio del Eden" I planned a realistic story, on how love relationships get ruined. And on how we ruin our relationships mainly because of us, as it is required to know how to preserve a relationship. Therefore, in every book I tried to play with or to express aspects that I am interested in and that should not be compressed in one book only, but to distribute them in more than one book.
By analyzing your own work over time, what can you tell us about your latest novel – Historia Verdadera de Jasón y los Argonautas (2014) and about your most recent volume of essays – Ficción perpetua (2014)? Whom are you addressing these books? What were your sources of inspiration for them?
Jason was a proposal made by a friend of mine, the son of the publisher, who edited four books which are books of friends. He told me: "Why don't you work with a classical theme?" and I thought about the theme, about the archetype that we all carry within us: the quest for the treasure. It is our archetype. In our life we are looking for a treasure: love, a job, health, to live better, to achieve something etc. The quest for treasure is a myth – perhaps the first – of all the archetypes that we have. It is the first myth. And since the beginning I thought about the quest for the treasure: Jason's journey in search of the Golden Fleece. I read the classics and discovered that this is a world that is truly incredible, an indescribable beauty is what lies behind this story. And I tried to tell it as if I were a timeless voice, the narration voice that tells this story now. And how the story ends, in fact how it almost ends, for later Jason marries Medea and, as we know, things between them afterwards did not go too well.
I wrote books for young people who, as the years pass, cannot read them anymore because the educational system has changed, the readers' perception has changed as well, but when I write a canonic novel I am addressing an audience that likes literature. I am addressing a literary public, just like myself. I address no one in particular; an audience who likes to read, same as me. I am addressing myself.
The sources of inspiration are always topics that interest you, draw you and that are inside yourself. If you approach a topic of reality, then for sure you'll add things to it, things that obsess you, which you're particularly interested in. I believe that a writer is not a chronicler. A chronicler can tell the reality, more or less. But a novelist must be discovered his mysterious and secret parts towards the reality.
Where from your love for literature, provided that you have studied Law?
Almost all the writers of my generation have law degrees. Literature has nothing to do with profession. I made the law career for family tradition: my father was a lawyer, so I chose to study Law as well. But what I was enjoying best was to read, since I was a child. And as I was a great reader, the day I started writing, I wrote. Perhaps if I had studied philology, I would have written better novels. Nevertheless, there are few philologists who are writers. Writers generally come from other areas. Law was a career that was not complicated to do and I was having time for Cinema Club, for Theatre Club, etc. Law was an extraordinary career. Because students in engineering or medicine had to devote themselves much more to study, while law was allowing a double life.
The questions of identity, duality and fantasy incarnation are recurring elements to be found in your work. Are there any reasons for tackling these issues?
The theme of identity is a current theme that we live continuously. Some of us are made out of only one piece. I believe that identity is something diffuse. It consists of many things. Personally I fear closed, total identities. Us Mediterraneans, are built up based on many influences, influences from India, perhaps Persia, from the Romans, but also many other influences. What does our profound identity consist of? The identity of an ancient people, such as ours. What does it consist of?
For me, the identity issue is approached the following way: you have to acquire new identities but you should not forget your original theme. Because when you convert yourself, you lose your memory and become an imbecile. Then you change. These are the times we live in. I am very much interested in the theme of identity: what are we exactly? Thanks to literature, I know much better the people in literature than I know myself. I find myself surprised by how well I know Madame Bovary and by how strangely I react in certain situations. Why this? Literature allows us to better know the identities. In life, sometimes unexpectedly, when I have to make a decision, I ask myself: "Who is making this decision? What Merino is deciding this?". In terms of the fantasy motif, I personally enjoy playing with it also from the things' oddity perspective. Over the years, I discovered that reality is very strange. In addition, every day I am telling myself "How odd are the things happening around. Why this?".
It is surprising how strange reality can be. Reality is unpredictable, strange and we want to get used to the thought that in reality it will always go well, but we perfectly know that time makes things change. And this strangeness of reality is what makes me sometimes play with the fantasy. In our world there are many worlds. We see what we want to see. Fantasy helps me play with the parallelism, with the secret realities. The world is not logical. And we aim to be logical, but we can't be.
In "La orilla oscura" you write about life as a dream and about duality. Do you find yourself in these themes? Is it your life you wrote about and the way you approached it?
"La orilla oscura" is a book that has its origins in my discovering America. The day I arrived in Latin America, as I worked for a while with UNESCO, I did not know where I was finding myself. Because it was something that Sigmund Freud called "unheimlich" (the uncanny) – the strange familiar. I remember I came to Caracas and that the place was very familiar to me. Because they spoke my language, with a different accent, numerous things were familiar to me. For me the environment was the unfamiliar one: the tropics, in the park there were crocodiles, hence this feeling of meeting something that was very much mine and that also was not mine at all. This resided in the origin of the book. The discovery of Latin America had a profound impact on me. This theme interested me very much because it is a theme that has to do with identity. This theme and the theme of the dream, as it was a long trip, were those that made this book possible. It was this sensation of dream, of unfamiliar and familiar at the same time. All these gave me an authentic experience.
Which are the Romanian writers you appreciate the most? If any.
As I am fascinated by myths, I appreciate very much Eliade, having read the "History of Religions", a very interesting book. As author very interesting in terms of philosophy, Cioran is an author whom I also read. Myself, I wrote a similar work to one written by Ionesco by the time I was a young Law student and was going to the theater. Ionesco was then like a God for youth due to his theater of the absurd. The classics are the ones I've read. I also know a few Moderns, for instance Ion Vianu. I presented in Madrid one of his latest books that I personally find very interesting. About the Romanian contemporary literature I have little knowledge as it is not much translated. I've added Cartarescu to my list for reading him after this trip to Bucharest.
In how many languages are your books translated and where on the globe do you feel most appreciated?
I am translated into various languages – for instance in Bengali and Arabic, which is very bizarre. I am translated into German, English. But only the books for young people, no other important novel. I am also translated into Russian. I am generally translated in a dispersed manner. I'm not an author who can say: "Every book I write gets translated". No, it may be translated or not.
Apart from the Spaniards, also the Latin Americans appreciate me. But I feel most appreciated in Spain.
Are you working on a new book at the moment? If so, what is it about and when will it be published?
I finished "Calila y Dimna" which I believe will be published this year and next year I will publish another novel that I'm still working on. As my father was very fond of books and believed they represent the only fortune we truly possess and as we had many books at home, one of them was a very rare book, from the eighteenth-century, theoretically published by a woman who was very celebrated for many years. It is a book of medicine.
After this book was published, the testament of her father also came out saying that he was the author of the book and that he allowed his daughter to sign the book in order to give her honor and glory. From that point, all the libraries erased her name, replacing it by her father's. I was always interested in this story. Since the time when I was 14 and when I first read this book. It is a valuable book, a book about emotional relationships, about feelings, it is a perspective of the sixteenth century medicine. I have recently recalled of this book and I thought of writing a novel about a woman obsessed with this story who would like to find out what really happened. I don't know exactly the date on which it will be published, but it is possible for this to happen at the end of next year, on Christmas.