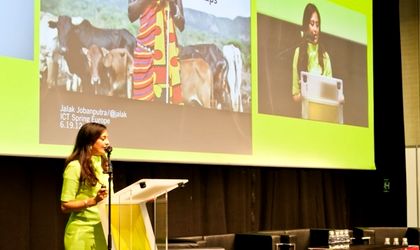 The 2013 edition of ICT Spring Europe, an innovation-focused event, will take place on June 19th and 20th in Luxembourg.
ICT Spring Europe gathers more than 3,500 visitors from all over the world: CEOs, CIOs, startups, e-Marketers, tech decision-makers, VCs, economic and technology press, government authorities, municipalities.
This year's key topics include Mobile Opportunities, Digital Content, B2B Revolution, IP in IT, Internet of Everything, Social Networks, Gaming: Beyond Entertainment, Lifestyle Revolutions, Financial Systems, Mobile Payments, and Leading Action Security.
ICT Spring Europe is a two days event that brings together the latest ICT technologies and solutions available on the market, entirely dedicated to innovation, in an interactive, enriching and convivial atmosphere. Business sectors in the innovation area will be represented through 150 established companies working as partners, researchers or investors. Moreover, 120 startups will be selected to take part in the exhibition at no charge and promote their innovations: a unique opportunity for young companies through the visibility offered by the event and the presence of incubators and investors from all around the world.
On the occasion of the event, companies and professionals will be rewarded for their contribution to the ICT community's development. The European ICT Awards aim at rewarding the best practices in the ICT field. Three awards are opened to candidacies which will be evaluated by a selected jury: European CIO of the Year, European Startup of the Year and European ICT Innovation of the Year. The ICT Spring 2013 Advisory Board will select 100 European CIOs, ICT media & bloggers, marketing managers from the European ICT sector and universities as jury members for the nominees' selection. The voting process will be controlled electronically with secure links and independent supervision. Details, key deadlines and conditions to participate as a jury member can be found at www.ictspring.com. Winners will be announced during the European ICT Awards Dinner, a seated dinner ceremony organized for 1,000 ICT influential persons.